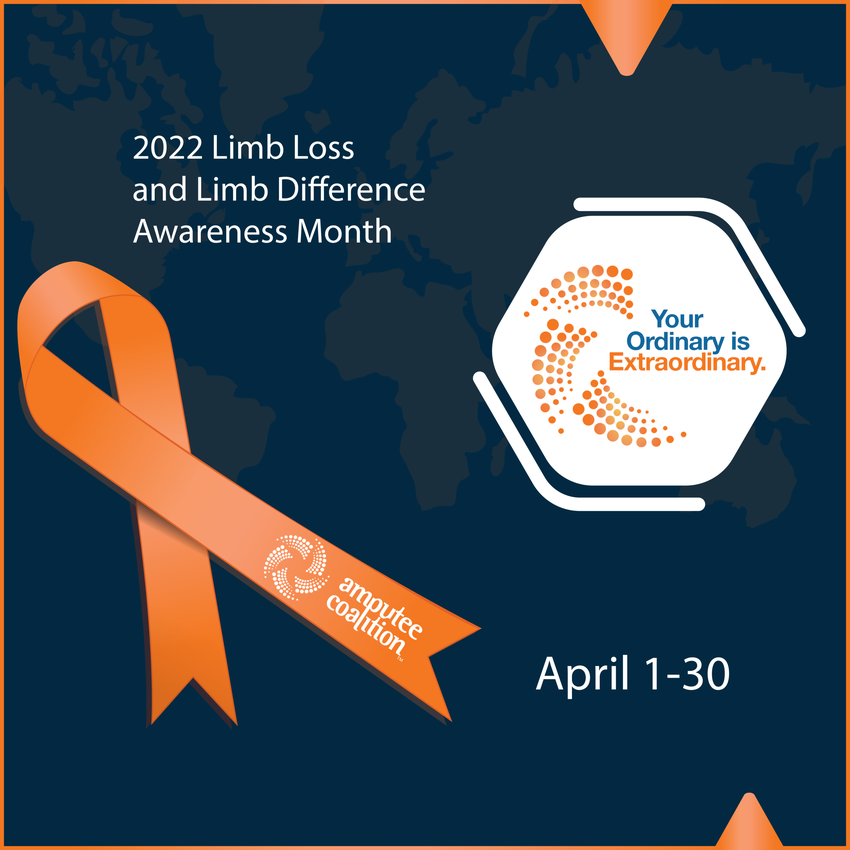 A Month To Celebrate Limb Loss And Limb Difference
April is Limb Loss and Limb Difference Awareness Month. In its eleventh year, this month is a fixed feature in our calendars. A month to celebrate the limb loss and limb difference community, tell the world more about us, further work towards real inclusion and increased participation, and be proud of how far we have come. As Amplitude Magazin put it nicely last year:  "When the Amputee Coalition organized the first Limb Loss Awareness Month in April 2011, Oscar Pistorius hadn't yet made the running blade an instantly recognizable piece of athletic gear. No amputee veterans of the Iraq and Afghanistan wars had been elected to Congress. Social media, still in its infancy, hadn't yet given amputees a platform to tell their own stories." But there is more to do, new reasons to celebrate, and great opportunities to be involved.
This Year's Theme: Your Ordinary is Extraordinary
Get involved, be active, used your channels, your platforms, your influence, and be part of a movement to celebrate limb loss and limb difference world wide, shape policies, improve practice. A good way to get started is through the Amputee Coalition. They offer plenty of events to be involved in and have great resources on their homepage which you can use to create more awareness about limb loss and limb differences and inform the wider society around you.
Here is the link to the Amputee Coalition's resource pack for 2022.
Three Other Initiatives Worth Knowing About
But the Amputee Coalition is not the only organization that is very active during Limb Loss and Limb Difference Awareness Month. Others worth following are...
... The Active Amputee (sorry for beating my own drum here): There will be a 30 video mini-series called 'Did you know...?'. Each and every day I share a one minute video with facts and insights about my life as an amputee. You find all the videos on my YouTube channel and here on this page.
...ROMP: One of my favorite charities, creating amazing positive change for people with disabilities. ROMP has been one of the most innovative and committed organizations out there creating awareness about the needs of people affected by limb loss in the global south, offering hands-on support through providing prosthetic care and artificial limbs, and pushing for a changing mindset towards mobility as a human right and not a luxury. To learn more about ROMP and the incredible work it does, visit the ROMP homepage.
...The movao social platform: The 'Move As One' social platform looks promising when it comes to Limb Loss and Limb Difference Awareness Month. This platform specifically aims at the limb loss and limb difference community, their families, and people from the health sector and reaching people in the US, the UK, Belgium and the Netherlands as well as Germany and an increasing number of other countries, this platform is worth watching. To learn more - and for the link to register - please refer to this article. 
Further Reading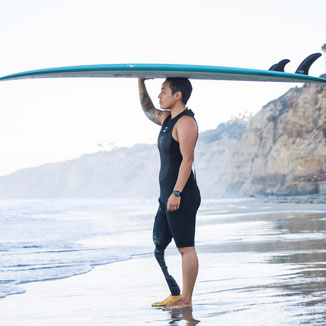 Giving back in so many ways
In 2004, Dr. Dani Burt was involved in a motorcycle crash that put her in a coma for 45 days. After she woke up, Dani knew her life would never be the same again. It took many unexpected turns, opened many new doors and offered her countless amazing opportunities. Today, Dani works as a Doctor of Physical Therapy at Sharp Memorial Hospital, the same hospital where she was a patient of more than a decade ago. A career she chose because she wants to be there for patients after they go through the darkest moments in their life to show them what is possible.  Read more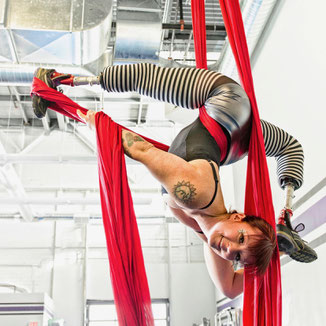 Double amputee circus artist
June 12, 2014 was the day Erin had both of her lower legs removed. It took her eight months after that to accept it and to imagine that a life was still possible. Once that step was taken, she started to wrap her head around believing that her life could be one that she actually wanted to live. Before her accident in March 2014, Erin had been a circus artist whose career was just starting to take off and everything that she did required feet - or so she thought. But as she soon learned, this was not the case. Read more