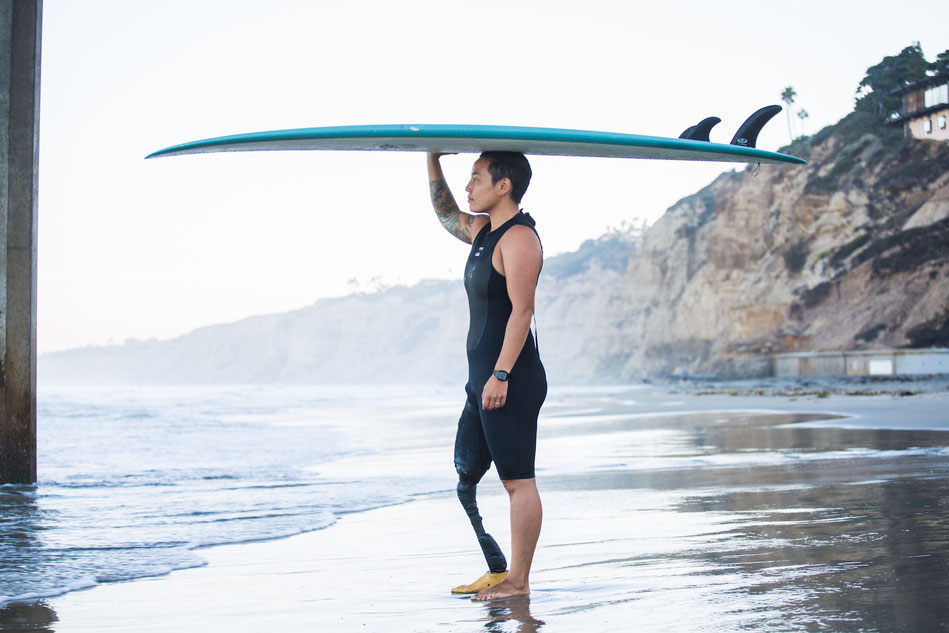 How it all began
In 2004, Dr. Dani Burt was involved in a motorcycle crash that put her in a coma for 45 days. After she woke up, Dani knew her life would never be the same again. She felt lost, confused, hurt and in many ways hopeless. But her life was not over. It took many unexpected turns, opened many new doors and offered her countless amazing opportunities. Today, Dani works as a Doctor of Physical Therapy at Sharp Memorial Hospital, the same hospital where she was a patient of more than a decade ago. A career she chose because she wants to be there for patients after they go through the darkest moments in their life to show them what is possible. Here is an interview with Dani, talking about her road to recovery and the many ways in which she now gives back and supports people who faced life-changing events.

Giving Back In So Many Ways
Dani, for all those readers of The Active Amputee, who do not yet know you, can you briefly introduce yourself. 
Dani: I am a professional surfer, Doctor of Physical Therapy, above-knee amputee and current World Adaptive Surfing Champion. 
If you look back at your journey, what/who helped you in your recovery; what/who helped you to make it through the dark days and find back into life? 
Dani: I would not be where I am right now without my community. I feel nothing is ever solely accomplished on your own. It is very important to recognize and respect that. The experiences I've had in my life have taught me that it's not only important to ask for help, it's imperative. Before my motorcycle crash, I didn't trust anyone. I felt I was the only one I could believe in to accomplish anything. I was taught asking for help was weak and lazy. What I've learned is that there is nothing further from the truth. Being able to communicate and be vulnerable is real strength and an efficient use of everyone's time. 
Whenever I ask someone for help, there's an unspoken agreement that I will then turn around and pay it forward to the next. I feel gratitude speaks volumes on someone's character and I will always give credit where credit is rightfully due. I think that's built trust with those around me and has created a philanthropic environment which is so amazing to be a part of. I just want people to enjoy the time they have in this life. That's why I'm succeeding. It's not about me. It never has been. It's about all of us. 
The Ocean Treats Everyone Equally
You are one of the best adaptive surfers in the world. How did you get into surfing? A sport that seems especially hard for people with lower limb amputations. Any tips for others who would like to give it a try. 

Dani: After going through something traumatic and acquiring a disability, surfing might be the last thing on your mind. Your main focus is relearning how to just live. My biggest suggestion to anyone is going about life with an open and curious mind. Being a woman adaptive surfer you are faced with many hurdles. You look at the line up and typically there's very few able bodied women out let alone an adaptive one. When I want to do an activity, I don't look at what's not there or what's holding me back. I look at why I want or need to do it.
The ocean doesn't see your gender or ability. It treats everyone equally. Being a surfer isn't just a culture, it's life. Everything you learn out there and the skill set you acquire is transferable to life. Surfing has shown me I can accomplish anything. I may do it differently than someone who is able bodied but I am doing it. That lesson is invaluable and I would love everyone to be able to feel that. 
If you would like to learn more about adaptive surfing and just tips on being an amputee in general, follow me on Instagram (@Dani.Burt), Facebook (@DaniBurtOfficial) or look me up on my website (daniburt.com). 

If I look at you sports career, it seems that you did not just survive your accident. It seems you – and I hope this does not sound stupid – you blossomed. It seems you thrived in the face of adversary. You unfolded your full potential and became a role model to so many others; people with disabilities as well as people without disabilities. Do you want to tell us a bit more about that? 
Dani: Every aspect of my life shifted after my crash. I was literally broken down to the ground and had to build myself up from scratch: physically and mentally. Physically, I now had a body that didn't work remotely close to how it did just a few days prior. I had to learn dedication and patience to achieve even the smallest signs of progress. I can remember the moment I started moving my left thumb again. I can't explain how thankful and happy that moment was after being told by your doctor that you would never move your left arm again. 
Mentally, now that was the hardest part. I could see my leg was missing or my arm didn't work but I couldn't get a grasp on the negative thoughts repeating in my head. I had to learn coping skills that I was never taught in my childhood. That took years to accomplish with the help from my amazing therapist. I've learned that nothing comes easy and that all the work you put into yourself, makes the end result that much sweeter. 
When I think of the 19 year old me, I see a kid that had to struggle so hard throughout her entire life. Someone that had no self worth, that did not trust anyone, that didn't know how to love or be loved, and had set up the thickest and tallest of walls to protect herself. Since then, with years of work, I've found my identity. I've been able to break through most of those walls. I now see the absolute importance of letting others in and embracing your emotions. Not burying them. 
Through this whole process, there's been so many ups and downs and dead ends. It has taught me to have an open and curious mind. To be solid in my values and do what it takes to achieve a goal. Even if that thing never existed before you. 

I'm Living My Dreams
In addition to your sports life, you have dedicated much of your – professional and spare – time to assisting others. You are a Doctor o Physical Therapy, a mentor with the Challenged Athletes Foundation and the Balboa Medical Center, you produce life hack videos for other amputees – just to name a few things. Can you tell us a bit more about these aspect or your life? 
Dani: What motivates me is reflecting upon all the people who have helped me get to where I am today. The ones who have dedicated hours to helping me better myself mentally and physically to those who just gave me a helpful tip that made the road I'm traveling on a little less bumpy. I know what that generosity felt like all to well and how much I am grateful for their time. I'm motivated to always pay that forward. I know some people will keep the information I share with them to themselves and I also know there's those who will pay it forward themselves. There's no better feeling than knowing that you've helped someone. That's what motivates me.
Life at the moment seems to treat you well. If you think ahead, what are your dreams for the coming years? 
Dani: I feel I'm living my dreams. I'm privileged to have a great career that helps others regain their functional mobility with amazing coworkers. I get to travel and experience new cultures and different surf breaks. I educate others on how they can enjoy the outdoors. I have a voice that's allowed me to advocate for equality. I have a roof over my head and an amazing community that surrounds me with love, strength and knowledge. I'm living my dreams and am privileged to assist others live theirs. 

Being a very active amputee yourself, any tips and tricks you would like to share with other amputees? 
Dani: There's so many! The biggest one is that you can accomplish anything. Even if it's never been done before. Have an open, curious mind and do whatever it takes to make it possible.
If a fairy shows up out of nowhere and offers you... 
...to arrange an evening for you, your friends and family. Fancy sushi restaurant or good ole barbeque in the park? 
Dani: I love food and good company so it would depend on my mood. I'm always down for sushi dining outside.
...an all expenses covered holiday trip. All inclusive spa and a loads of culture, museums, theatre etc. or camping adventure out in the wild? 
Dani: I do both! I have an upcoming camping trip in Yosemite and holiday (not all expenses covered ;)) in Sweden where I'll be going to a ton of museums (love that stuff). Traveling and adventures are really important to me.
...a new couch for your place. Great design or as comfy as it gets?
Dani: I'm all about useful. I have a pull out futon that is comfy to sit on and to crash on when someone is visiting. 
...to meet one person of your choice from any time in history (outside of your family), who would that be?
Dani: Michelle Obama
...to teleport you to a tropical island for three months, what are the three things you would like to take with you? Yes, food and water is catered for. 
Dani: A tent, surfboard and journal. 

Further Reading