Being Active After A Life-Changing Accident
Today I want to draw your attention to Quinn Brett, an athlete, a public speaker, and advocate for public lands and recreational accessibility. Quinn and I never met. Not in real life, not online. We don't know each other. But I have been following her on various social media platforms for some time. Watching her journey of recovery after a life-changing accident - although only from afar - has been a constant reminder to me to appreciate life and live it to the fullest. She has been one of the motivating influences for me in recent years to keep on pushing my boundaries and be active outdoors.  With Quinn's new movie coming out this week, I thought it's time I draw your attention to Quinn. So lean back and enjoy the following links to learn more about her. 
The Moment That Changed Everything
Mid-October 2017 in Yosemite. Quinn and her climbing partner are on El Capitan when it happened: A moment's lack of attention, a 120-foot fall, hitting a ledge. Quinn sustains multiple severe injuries, among them a broken spinal cord that left her paralyzed.
Initially this seemed to be the end of her active and adventurous lifestyle in the great outdoors of North America. But life is not always what it seems.
So over time, with great effort, and after many trial and error approaches Quinn finds new ways  to be mobile in the wilderness. She manages to return to the place of her accident to confront her past, and re-engage with the beauty of what remains.
The following movies and articles allow us to witness her journey.
An Accidental Life
UnTamed
The Divide
And In Her Own Words
And if these short videos triggered your interest and you want to learn more about Quinn - and do so in her own words -, then the following articles are a great way to start:
Further Reading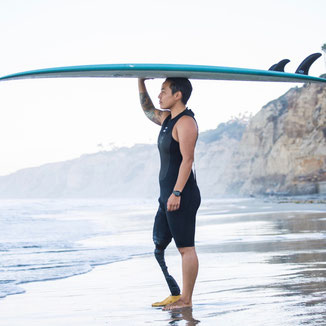 Giving back in so many ways
In 2004, Dr. Dani Burt was involved in a motorcycle crash that put her in a coma for 45 days. After she woke up, Dani knew her life would never be the same again. It took many unexpected turns, opened many new doors and offered her countless amazing opportunities. Today, Dani works as a Doctor of Physical Therapy at Sharp Memorial Hospital, the same hospital where she was a patient of more than a decade ago. A career she chose because she wants to be there for patients after they go through the darkest moments in their life to show them what is possible.  Read more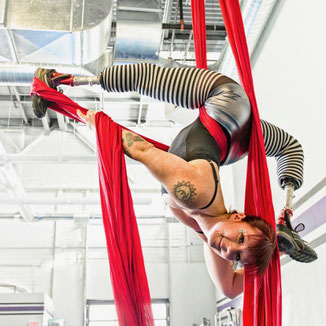 Double amputee circus artist
June 12, 2014 was the day Erin had both of her lower legs removed. It took her eight months after that to accept it and to imagine that a life was still possible. Once that step was taken, she started to wrap her head around believing that her life could be one that she actually wanted to live. Before her accident in March 2014, Erin had been a circus artist whose career was just starting to take off and everything that she did required feet - or so she thought. But as she soon learned, this was not the case. Read more