People On Instagram That Leave You Speechless And In Awe
Okay, I admit it. My relationship with Instagram is not an easy one. To call it ambivalent is a bit of an understatement. I am not sure I could have pulled off The Active Amputee and establish it as a well respected source of information for people affected by limb loss and limb differences without Instagram. It was my window to the world of limb loss and limb differences; my channel to start talking with an amazing range of people from the wider community; my magic wand to build strong and lasting relationships with people from all around the world. Without a platform like Instagram, I doubt I would have pulled this resource service off, let grow it and keep it going for more than five years, in two languages, with two podcasts and a regular newsletter to its name. But despite all that, being active on Instagram doesn't come natural to me and I often have to force myself to open the app, engage with the content from the people and institutions I follow, and share meaningful content from my side that adds value for people affected by limb loss and limn differences.
So much for that. And now that this confession of mine is out of the way, I want to share some of the accounts - and the individuals, organisations, and companies behind them - that rank high on my list of 'must follow accounts' on Instagram. I will kick this mini-series off with ten accounts of individuals that caught my eye in recent months. Accounts that - in my humble opinion - provide great inspiration and good entertainment. Check them out and let me know what you think.
My Top Ten Accounts: Individuals Affected By Limb Loss And Limb Differences
Charles-Ryan Barber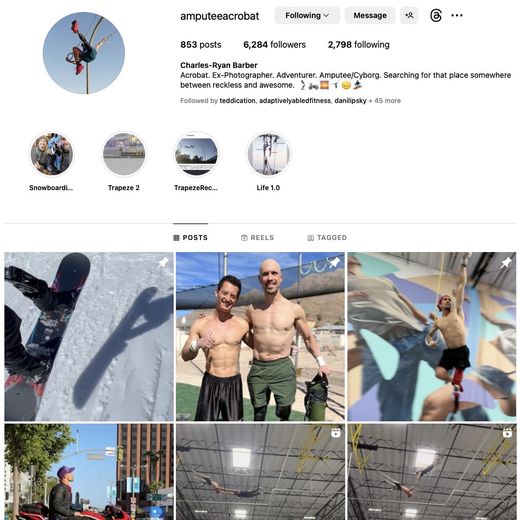 An acrobat, ex-photographer, adventurer, amputee and cyborg who is searching for that place somewhere between reckless and awesome (his own words). And someone whose posts keep me in awe and disbelief over and over again. 
You find Charles' account here.
Daniel Kosick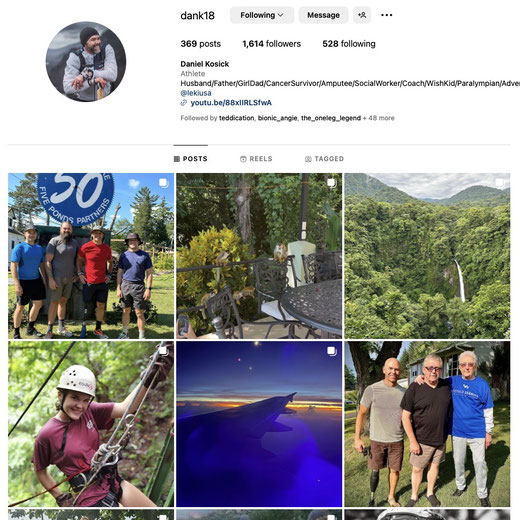 Athlete, husband, father, girl dad, cancer survivor, amputee, social worker, coach, Wish Kid, Paralympian, adventurer, and Leki USA ambassador. And when I first saw Daniel running on demanding backcountry trails on his socket-knee-blade set-up I was hooked.
You find Daniel's account here.
Eva Mol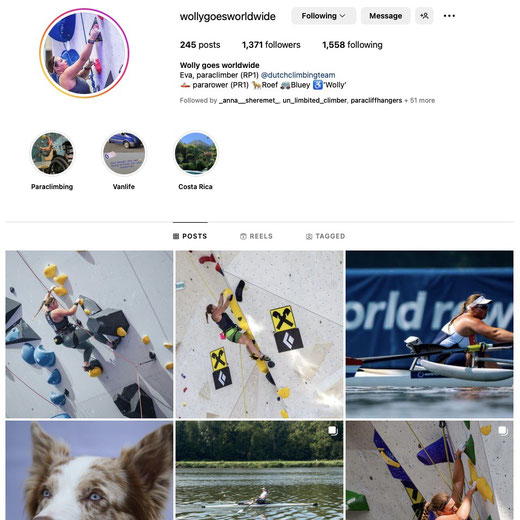 Para climber and member of the Dutch national climbing team, para rower, wheelchair user, and dog lover with a passion for van life. And someone who consistently posts amazing content that encourages people with limb differences and mobility limitations to be active, try out new things, and push the boundaries.
You find Eva's account here.
Jessica Jordan Ping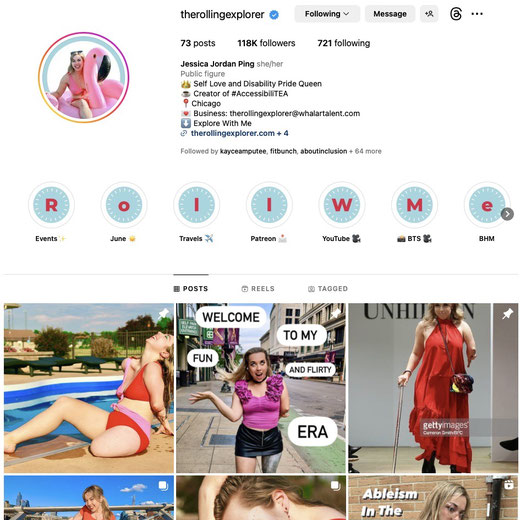 Self love and disability pride queen, whose account is such a joy to follow. Quirky, wild, informative, and entertaining. Jessica's posts cover a whole range of disability-related and general life-style topics and some have been eye-openers for me.
You find Jessica's account here.
Josh Bogle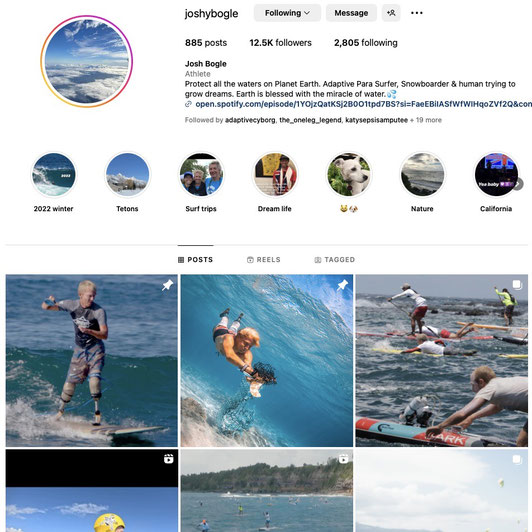 Adaptive para surfer, snowboarder, and a human being that is trying to grow dreams (so his own words). For Josh, the earth is blessed with the miracle of water. And it's our call to protect all the waters on Planet Earth. Something that is reflected in Josh's content which shows him near, on, in, and under the water.
You find Josh's account here. 
Kyle Stepp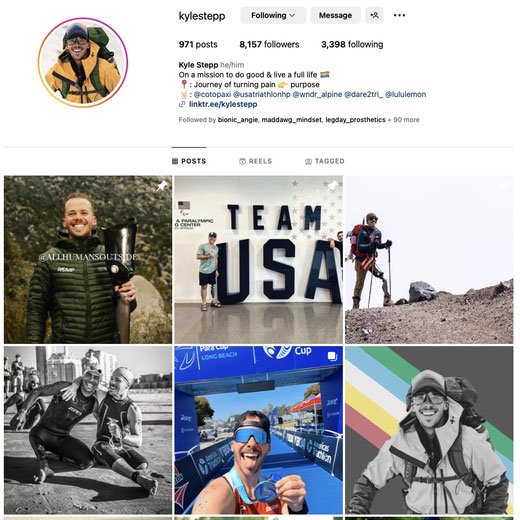 A para triathlete, outdoor enthusiast, and disability rights archivists on a mission to do good and live a full life. Kyle's enthusiasm and can-do attitude oozes out of his posts, something that makes them so valuable and stand out from the crowd. 
You find Kyle's account here. 
Liv Stone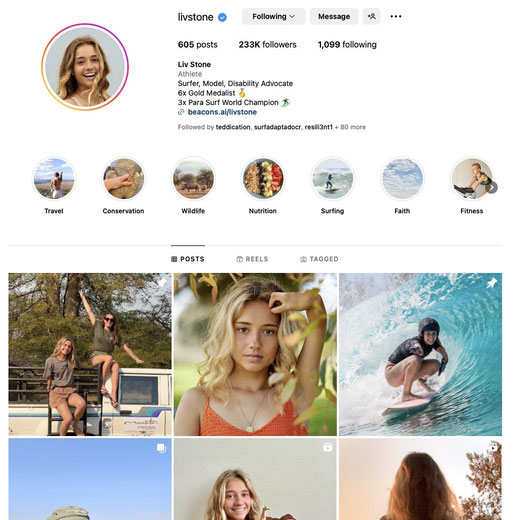 Surfer, model, disability advocate, 6x gold medalist, and 3x para surf wold champion whose beautiful life-affirming posts are a great way to start your day with a smile on your face. Liv's work for a more inclusive world is an encouragement to many.
You find Liv's account here. 
Michelle Salt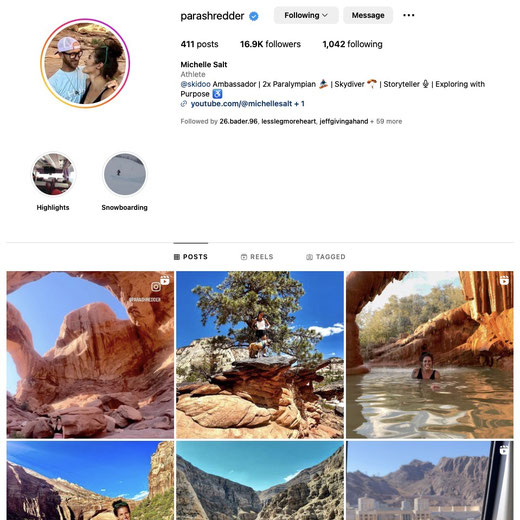 A Paralympic snowboarder, Ski-doo ambassador, skydiver, and accessibility and mobility consultant with a love for storytelling and the wild outdoors. Michelle's posts let me dream of adventures in far-flung places and encourage me to finally get my act together and try skydiving.
You find Michelle's account here.
Ruben Roldan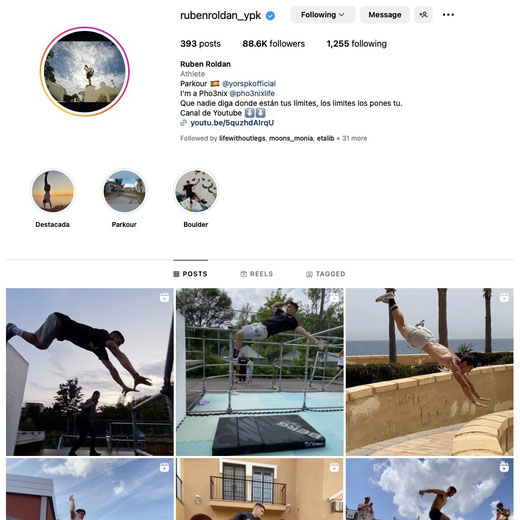 A parkour athlete from Spain who leaves his audience mesmerized and doubting gravity and the laws of physics. 
You find Ruben's account here. 
Tiina Nopanen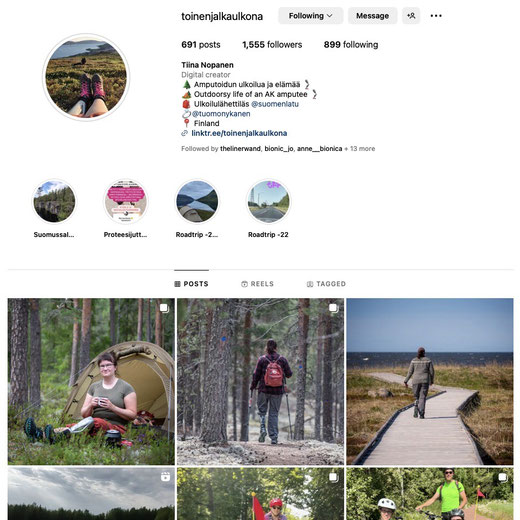 Showcasing the outdoorsy life of an above knee amputee exploring beautiful places in Scandinavia's backcountry, Tiina's regular postings resonate with me and make me want to visit Finland again some time soon.  
You find Tiina's account here.  
Further Reading