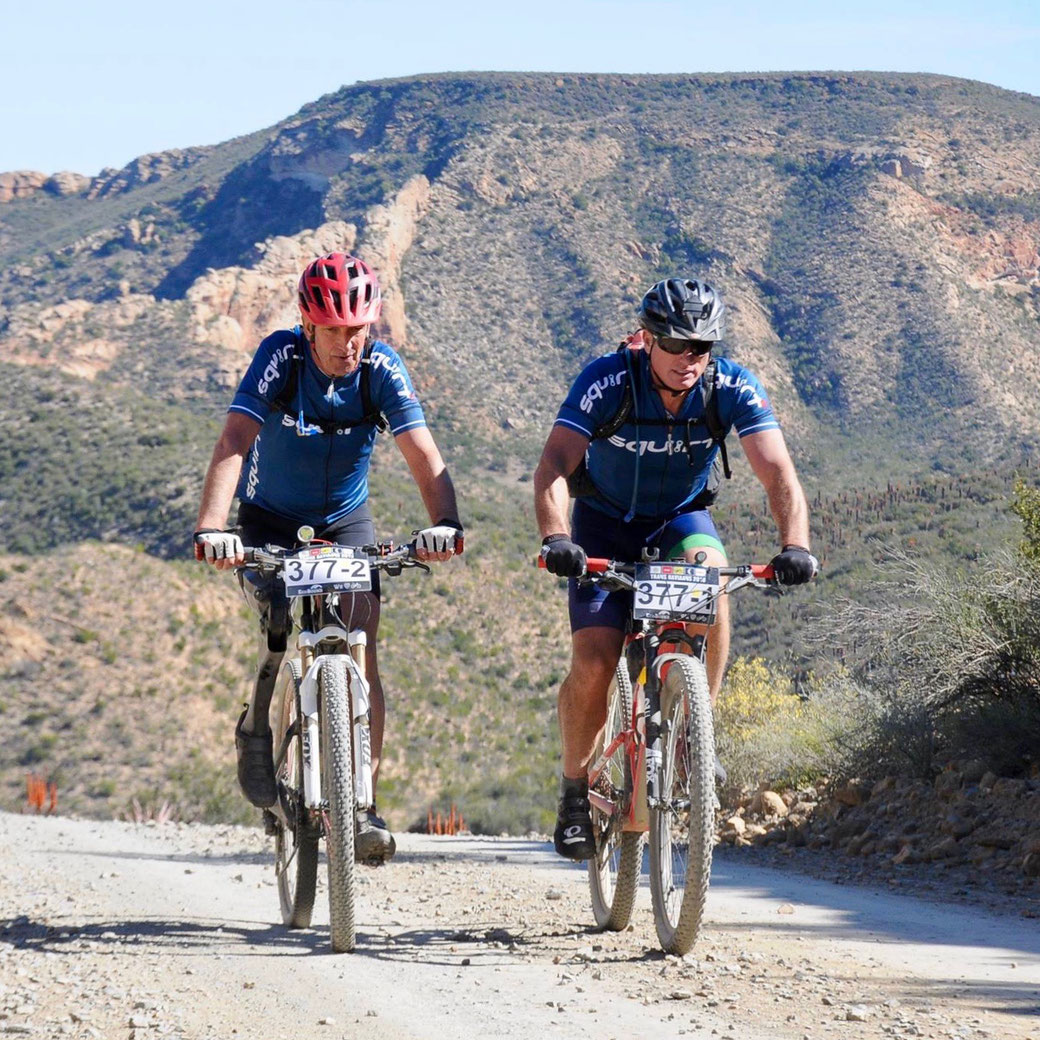 I Learned To Cycle Before I Learned To Walk With My Prosthesis
Today's article is all about cycling and how it helped Stephen from South Africa's wonderful Western Cape to come back after a tragic motorcycle accident. The idea for the interview arose during a chat with Jen from ClickMedical, who mentioned Stephen and his inspiring outdoor adventures and brokered the contact. "Thanks Jen I really appreciate these contacts!" 
Here is my interview with Stephen. Enjoy!
My Bike Was Essential For My Recovery Process
Bjoern: "Stephen, you are an above knee amputee from South Africa. You are a relatively new member of the global limbless and limb difference community. Can you briefly tell us how you lost your leg."
Stephen: "Sure. I lost my leg as a result of a motorcycle accident back in 2016. It was not one of those typical crash accidents. I was traveling through Southern Africa with a friend of mine. He passed me on his bike, unfortunately a bit too close. My took the main force from the impact. And as a result it had to be amputated. And so I new chapter started for me. And one - as you mentioned earlier - in which bicycling became even more important for me than before."
Bjoern: "I know that your bike was central to your recovery process and to the way you live your life now. But before we dive into that, tell us a bit more about you before the amputation."
Stephen: "Cycling was always important for me. Here in the Western Cape, I have the most amazing scenery right in my backyard. The stunning coast here along the Garden Route, wild, sometimes pittoresk but often rough and with its very own charm. Then there is the interior, the Karoo, as it is called here. An arid, semi-desert to the north of where is live. And these are just my immediate surroundings. Go a bit further and you can find anything from tropical beaches to high alpine regions, from gently stalling hills to big game parts and so much more. All there to be explored by bike. With such an amazing playground all around me, it is no surprise that before my accident I was really into mountain biking. Mostly here in South Africa, but also internationally. For example, I was part of the first South African team to participate in the Transalp Challenge back in 2002
After the accident, when I was still in hospital recovering, I thought about life: What would be possible after the amputation? What would be off limits and impossible? What would just need bit of trial and error and a creative mindset to move from the 'impossible' to 'possible' side? As I didn't know any other people affected by limbless back then, I relied mainly on my own imagination, speculations, and on whatever information I could get my hands on through the internet.
For me, one thing was clear: I wanted to be able to ride my bike again. And to be honest, I learnt to cycle again before I was able to walk with my prosthesis.
I soon found out that many other amputees cycle without wearing their prosthesis. Even if they have long-enough a residual limb and are in possession of a good prosthesis. While I saw the reasoning behind it, it was also clear to me that this would have negative effects on my overall health. It would further add an uneven use of the muscles in my back, would put additional stress on joints and ligaments, and most probably affect my overall posture. So my mind was set on figuring out how to ride my bike with the prosthesis right from the start. I admit, there was a lot of trial and error, But I soon discovered what works best for me. 
And four mounts after my amputation, I was back on the bike. With my prosthesis. Initially only indoors. But I knew I was off to a good start. After eight months, I took part in a 100km MTB race as part of a tandem team. Soon my eyes were set on races of above 200km solo , gaining more and more experiences, getting fitter, adapting my equipment. And with more experience and understanding my body and limitations, my goals become more ambitious. For example, in 2019 I participated in 360NE Mountain Bike Challenge, a grueling 360km race through the Karoo. And by finishing, I became the first above-the-knee amputee to ever finish a mountain bike race of this distance.
I knew that 360NE was an impossible task on paper, so we set off and only focused on one hill at a time. We were not afraid of failure, and after 28 hours we found ourselves climbing our last hill into Oudtshoorn! Only if you push yourself way past your comfort zone do you actually find what your capabilities are. From now on, the day to day tasks which I once found challenging have now become insignificant and 'normal'."
Bjoern: "Wow, that sounds amazing. As someone who has lived not just in South Africa for some time and has experienced the Karoo but who also has personal experience in other very hot and demanding environments, I can only imagine the physical and mental strength it takes to make it through such a race."
Tips Ans Tricks From Someone Who Knows
Bjoern: "Stephen, you said getting back on the bike and finding out what works best for you was a long process of trial and error. Can you share some of the insights you gained during this process and the lessons learned you took away?"
Stephen: "Sure, and I guess some of them might be surprising. 
First and foremost: Riding with two legs - in my eyes - is much better for you body than using only the remaining leg. A much more balanced approach for which your muscles, your joints, your body will thank you. But there is more to it. I explored in how far riding with the prosthesis actually adds strength and power to my riding. And with the help of a power meter and specific exercises to test the strength of the residual limb, we found out that my amputee side I was able to increase from an initial power balance of 10% to now 23% average after a short while. So it really makes sense to cycle with your prosthetic leg.
Next, a cheap, a simple, a mechanical leg is all you need. It actually works much better than a high-tech top of the range model. Even if the high-end leg has a cycling mode, I still think the simple one is superior for cycling. All you need is a free flowing hinge with maybe a simple locking for walking. Same with the foot. There is no need to have an expensive one. Go for a cheap one, a simple one. And play around with it and adapt to to your needs. If you really get into cycling, if your stick with it, and want to race a lot, you might think about a special cycling leg. A tailor-made solution out of carbon fibre and with a special foot to connect to the pedals. Although I  use normal cycling shoes with cleats. But in the beginning, none of that is necessary. 
Much more important than the leg and the foot is the socket. Your cycling socket will be quite a lot different from your day to day socket. And it needs to be casted in a different way. Similarly, the alignment needs to be different. The socket must provide more comfort around the top. With the constant movement of the residual limb, that is key. My experience shows that it was best to actually cast the cycling socket in the seated cycling position rather than the customary standing position; i.e. when you are in the very sitting position you will have on your bike. 
These are some of the aspects you need to get right in the beginning as there is little room for changes later on. In addition, I think an adjustable socket makes life much easier and allows you to adjust for fit and comfort as per your needs and according to the situation. I have been using the RevoFit from ClickMedical, which allows me to adjust some parts of my socket via a dial. It also helps you tighten the socket as you sweat and loose volume and prevents that bending feeling you would get from a loose socket.  Great, if you ask me.
The alignment on the bike is also important. In the normal walking alignment setup, the socket will rotate slightly after time. by turning the knee slightly toe in, this will eliminate this. 
One of the most important things that made cycling easier, especially in the beginning, was to fit a dropper seat post to your bike. This helps with starting and stopping and adds to confidence as you can put your foot on the ground whilst seated."
Bjoern: "Thank you so much for sharing. I am sure that will help many fellow amputees who might be tempted to try getting back on their bikes."
Embarking On The Adventure Of A Life Time
Bjoern: "Stephen, we just started a new year. I know you have more adventure plans in the pipeline. Do you want to share some of your ideas for 2023 (and I make sure you join me on the podcast later this year when you are back from the next big tour)."
Stephen: "Sure. Well, after the raced I have done, I discovered bike packing for me. So sticking with the long distances, still being out there in the beautiful wild corners of South Africa and pushing my boundaries, but not in a competition. I love the adventure. I love the company and the camaraderie. But I now prefer the touring aspect over the competitive nature of a race. So one of my recent trips took me and a couple of friends 600km through the Northern Cape. For six days we rode south. Everything we needed we had with us, packed small, and onto out bikes. As I only had my cycling leg with me, I couldn't explore much of the area once we stopped in the evening. But during the day when we cycled I loved every minute of it. And this trip planted the seed for my next big adventure.
My dream for 2023 is to ride from Windhoek in Namibia back to Plettenberg Bay. That's about 2,000km. Partly through some very hot, very dry, and very remote areas. But also through some of the most beautiful landscapes this planet has to offer.  This trip is a very ambitious one and although I have planned the route and worked on the logistics, I need to see if I can get off time from work. In addition, I need a new leg that is good for cycling while still allowing me to walk properly and be independent even when not on my bike. And while we have been playing around with some ideas, we are still not there. Especially as this needs to be affordable and must not be overly expensive. But as I said, we are working on it. And once we got it all sorted, this will be an adventure of a lifetime."  
Bjoern: "Stephen, thank you so much for sharing your experiences and your stories. I wish you all the best for the next big adventure. Keep me posted on how things are going. And I can't wait to hear all about it once you are back. Until then, all the best. Stay safe. And hamba kahle! Go well!"
Further Reading