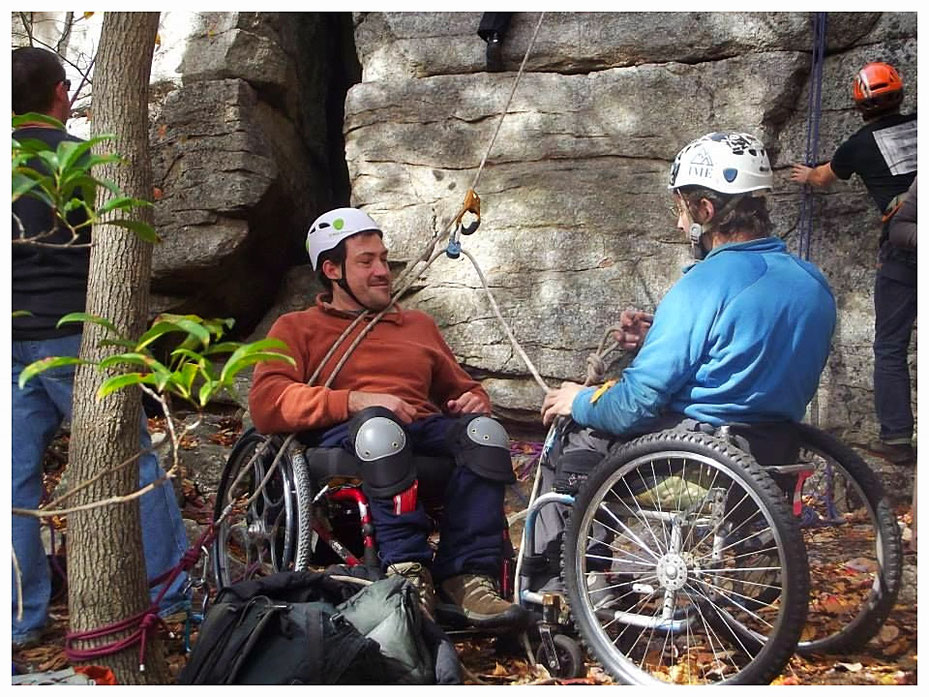 The Enock Glidden special
Starting this fall, there will be several new features on The Active Amputee. One of these new features is a quarterly special. Once every three months there will be one week dedicated to a special person, a special topic, a special challenge. During this week I will publish more than the usual number of posts. I will provide you with additional resources and background information. And hopefully I will motivate you to try out something new and head off to more mindboggling adventures.
To kick this new series off, I am extremely happy to partner with one of the most inspirational people I have ever heard about. The always amazing Enock Glidden. Today, Enock will share his story with you. Tomorrow we will show a video about one of his most amazing feats. On Thursday it's back to Enock and his reflections about team work and assistance before he talks more in general about the preparation it takes to take on big adventures on Friday.
But enough talk from me. Let me hand over to Enock.
My Journey With Spina Bifida
I started my journey in July of 1978 with a birth defect called Spina Bifida. There wasn't a lot known about it back then and one of the first things my parents had to hear was:"Your son will probably only live for three months." Of course, you can do the math and figure out I have handily beat those odds. As they say, I am still kickin' but not really, haha.
I was immediately rushed to Maine Medical Center after my parents got these news where Dr. Mehallic and a great team of people inserted what is called a shunt into my head in order to drain brain fluid. Spina Bifida comes along with something called Hydrocephalus about 15 to 25 percent of the time. Hydrocephalus is when fluid builds up in the brain and has nowhere to go so the shunt relieves that pressure and allows it to drain into my abdominal cavity where it gets absorbed into my body. And lucky me I hit the jackpot.
This was just the start of many surgeries to come, about 55 as far as I can remember, and a lot of life spent in hospitals.
The Early Years
In my early years of life after beating those odds and going home, I would get around by crawling. It wasn't until I was four years old that I got my first wheelchair. At the age of seven, I started using reciprocating braces that allowed me to walk with crutches. Unfortunately, they mostly worked well inside buildings on even floors but weren't well suited for walking outside. I used them until I was 13 and decided I was a lot more mobile in my wheelchair.
I am sure some people might wonder if I regretted that decision but I actually have never thought I needed to walk. Of course, certain situations would be much easier if I had that ability but I can't think of any moment that I wasn't able to figure out a way to accomplish something without the use of my legs.
The Man That Changed Everything
About the same time, I made the decision to forego using braces to walk I met the man that would influence the rest of my life. His name is Bob Dyer. He was my Phys. ed. teacher in junior high school. Unfortunately, he passed away from cancer years ago but to this day he still has an influence on my life. He was the person that said:"Yes, you can."
Bob coaxed me into trying things that I am not sure I would have ever done on my own. We went skiing both downhill and cross country, he got me involved in a wheelchair basketball team, made it possible for me to ride a three wheeled bike with the other kids, and made me participate in all the activities he introduced in our Phys. ed. class. I even participated in soccer using my hands to carry the ball while another student pushed me at breakneck speed. It was always the highlight of the class for the person who got picked to push haha.
It was after meeting him that my life became far more adventurous. I suddenly had a need to push my limits and challenge myself.
Wheelchair Racing
I started wheelchair racing at the age of 15 as part of this need to push myself. Every day I would come home from school, as soon as the weather allowed, and push myself the ten miles back to school. I would do this 20-mile round trip every day of the week if possible. There was a hill about five miles into the trip that was super long and steep. It would take me about 16 minutes to get to the top where it started to flatten out. On the way back, however, it took me about a minute to get to the bottom.
I bought a speedometer for my racing chair just to see how fast I could get going down that hill. My record was 56 miles per hour which I achieved in a 25 mph zone while passing seven cars. I managed to do the Maine Marathon three times before going to college at 18. I never set any speed records but I always improved my personal best. At that time there weren't many wheelchair racers so I would mostly be racing against myself.
College And Beyond
After entering college my sporting life fizzled out but I still had the desire to push myself. It wasn't until about 13 years later that I finally got back to skiing and pushing my limits again. I have been skiing with Maine Adaptive ever since. And a few years after getting back to it I joined the race team.
That is one of the best decisions I have ever made. Being on the team has enabled me to improve my skiing immensely and has allowed me to travel to other places to ski. I have also had the opportunity to meet other people in similar situations in life and gain knowledge and friendships.
Another sport that I recently found is rock climbing. It is one of the most challenging and limits-pushing things I have ever experienced. The passing of my friend, Nick Hall, inspired me to try this sport. He lost his life on Mt. Rainier as a rescue ranger, performing a rescue. When I heard the news I went to his Facebook page and just looked through all the amazing photos he had of places he had climbed, including Mt. Rainier. I decided that day I was going to find a way up there to see what he had seen with my own eyes. I have yet to get there but have made great progress in the journey.
After making the decision to see the top of Mt. Rainier I found Paradox Sports. Paradox Sports is an organization that makes it possible for people of all abilities to experience rock climbing and other human-powered sports. I signed up for their climbing event in 'The Gunks' that fall and the rest is history.
I had found the ultimate challenge and I was hooked! Since then I have climbed every year in 'The Gunks'. And I have climbed El Capitan in Yosemite National Park. If you are into climbing and want to see how a guy in a wheelchair takes on one of the most iconic big wall climbs in the world, make sure you come back tomorrow to hear the full story.
Inspiring Others
In September of 2014, I was lowered a couple hundred feet down a rock wall and climbed back out. My friend Nate McKenzie asked me why I wanted to do such a thing. I told him it was for the challenge but - also for the scenery. It's always better when you are a part of it.
I truly believe that going beyond the fence and being part of the scenery is the best way of experiencing nature. Feeling what it's like to see the rock up close, feel the textures of nature, letting it surround you is the ultimate way to allow the natural wonders of this world to affect you in a positive meaningful way.
My journey hasn't always been the easiest. But it has been a rewarding one. And – like so many other people out there – I want to share my passion for the natural wonders of this world and inspire others to push their limits. This is one of the reasons why I started my blog 'Go Beyond The Fence'. My goal with is to motivate people of all abilities to get out and try things. It doesn't need to be a big dream like climbing big walls in Yosemite National Park. It can be anything they truly want to experience in life.
When you try, things will happen. When you keep trying you get to the goal you set for yourself. You never know what you might experience until you try.

Guest post by Enock Glidden. As a person growing up with Spina Bifida, Enock had to develop his own ways to do things from an early age onwards. He is an accomplished rock climber, is involed with Pradoxsports and shares his adventures on his blog 'Go Beyond The Fence'. .