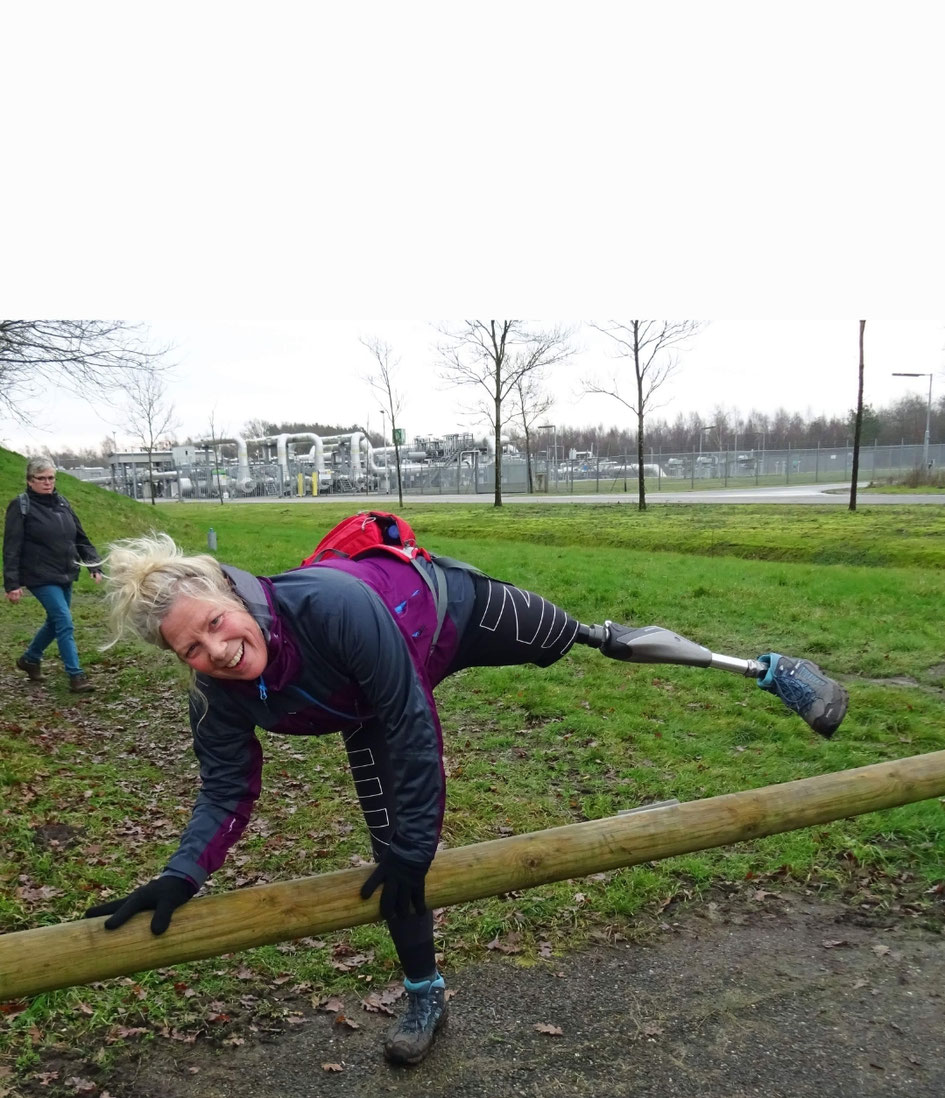 You'll Never Know How Strong You Are Until Being Strong Is The Only Option
Many above-knee amputees are struggling with the fit of their socket. They want to be active. They have a good prosthetic leg and a corresponding foot. They have the energy and are willing to put in the work that is needed to adapt to a new life as an amputee. But... the socket is causing trouble. And no matter how often it is re-cast, modified, adjusted it still does not provide the strong and reliable connection that is needed to fully use the prosthesis with confidence, to push the limits, and to live an active and independent life. While a variety of different systems work for some amputees, others chose a procedure that is called osseointegration. An osseointegration provides a direct interface between the bone on the one hand and the prosthetic device on the other hand (so without the intermediary of a socket enclosing soft tissue). Here is the story of Pietske, an above knee amputee from the Netherlands, who is very satisfied and happy with her osseointegration. 
Pietske's Story: I Lost My Leg To Cancer
2007 is the year that I lost my leg. After three years of fighting and denial I had no other choice. So it was time for a major surgery which would result in losing my leg above the knee. Why did I need this surgery? Well, I had cancer. And the tumour was located in my calf and knee.
Before the operation took place, the doctors told me that after the initial recovery period I could do anything as long as I was having having access to a modern protheses with a good socket. That was good news as it made me believe I would have my life back in the matter of months.
After six weeks I was released from the hospital and sent to a rehabilitation center. A new chapter started. In this period, I had to learn to regain my physical strength, my balance, and learn to trust myself again with this new protheses and the socket. After five months of rehabilitation, I could go home as I was finally mobile enough to do so.
The next three years consisted of having a series of phantom pain and lots of nerve pain. I had the ability to walk for about two hours a day, but it was very uncomfortable and painful. As a result,  I often sat in a wheelchair all day long. Looking back it felt as if the expectations I was given before the surgery were lies.
New Hope Through An Osseointegration
Then one day when I was reading the newspaper, I came across an article about osseointergration. This was an eye opener. I thought that I had nothing to lose, I wanted to get that click protheses. With the right motivation I went to the hospital to qualify for the needed operation. The next thing I knew, I had been accepted. After a year of research for being cancer free and for being healthy, I was given the operation.
The first operation took place six weeks after I was giving green light. This initial surgery was needed for the pin to be anchored in my bone. The second surgery was needed for the second pin to connect onto the first one. After about three weeks I could start my rehabilitation.
Finally, I could exercise my muscles in my remaining leg. While this process was very painful, I was soon starting to see progress. A little bit; each and every day. After four months of rehabilitation, I could finally go home and I could start to do some exercises  on my own.
After three years of hard training I reached my first goal: Walking three kilometres. I was filled with joy. And for the first time I felt like I was getting my freedom back. I continued setting new goals and after six years I started training for the Nijmeegse Vierdaagse, a four day hike, covering 30 kilometres per day. I also had  a side goal: To get osseointergration on the map of other amputees who are struggling with their protheses. At that time, very few people believed in me I achieving my goal.
Nine Years Later
Now I'm setting new goals and challenges for myself. One of these goals is to walk the Kennedey Mars of 80 kilometres in 20 hours. Having developed the necessary strong mindset, constantly pushing my own limits I can finally say: "I did it!"
I now have my freedom back. Finally!
Pros And Cons Of Osseointegration
Something along the lines of this being a personal assessment of my situation. I see the following advantages and disadvantages.
Pros
For me the main advantages of an osseointegration (as compared to a socket) are:
The ability to regain muscle strength.
I can keep the prosthesis on all day long.
I have good balance when walking.
I have really good control and precise placement of the prosthesis.
By the end of the day I still have plenty of energy left.
I can ride an electric bike, drive an automatic car, to go swimming in  a pool or in the sea and I can enjoy an afternoon in a sauna.
I don't have to think about walking as much as I did with the socket.
It takes five seconds to take off or put on the protheses.
Cons
But there are also some disadvantages. For me they are mainly the following two issues:
Keeping the open wound clean can be painful.
Having lots of muscle pain for the first three years.
Fun Facts
I was the first woman with an amputee above my knee in Holland to have osseointergration.
While having this journey, my husband and I needed to raise our three kids.
I now present osseointergration, giving presentations in a variety of different countries.
I am ambassador of Xilloc, who invented a new adapter nexus for my protheses.
These are the walking tours I participated in
Friesewandel Elfsetdentocht: 210 km in 5 days
Nijmeegse Vierdaagse: 40 km in 4 days.
Zandvoort Aan Zee: 40 km in 1 day
Flall Lopen: these are routs for long distance walkers.

Further Reading