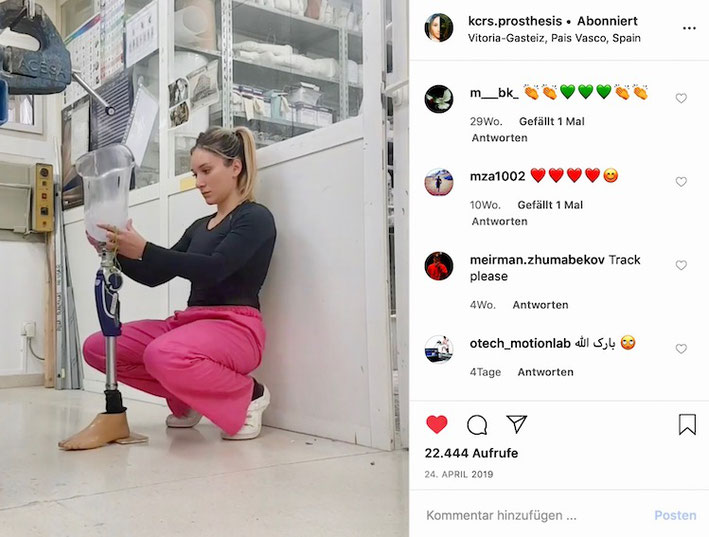 Plenty Of Inspiration, Brimming With Information And A Joy To Follow
January 1, 2020. The first day of the new year. Well, actually the first day of the new decade. And thus a great day to kick off a new and exciting year for The Active Amputee. Today I would like to recommend five people to you whose Instagram accounts you should follow in 2020. And… drum roll please… the five people to watch are the following.
My Top Five
Vasu Sojitra
Why: Vasu is an accomplished athlete and the first adaptive athlete on the The North Face team. He works as adaptive sports director for Eagle Mount Bozeman, a nonprofit that provides therapeutic recreational opportunities for people with disabilities and young people with cancer. Having lost one of his legs as a result of septicemia at a young age, he adapted quickly and keeps on pushing the limits, challenging the biases that go with being a person of color with a disability. If you like skiing and skateboarding, then make sure you check out his feed. If you like someone who speaks his mind and challenges out assumptions, then look no further. If you want to follow Vasu, here is the link.
Alba Cáceres
Why: Alba is a prosthetist and orthotist from the Basque Country. She regularly shares videos from her day to day working life letting you in on how sockets and other prosthetic gear is made. Her little clips are oozing with passion for each video is a joy to watch. If you want to follow Alba, here is the link.
Justin Davis
Why:Justin is a double above knee amputee and I started following him because he roamed some fo the same areas that used to be my stomping grounds: The Brecon Beacons in Wales. His can do attitude and his focus are inspiring. Justice climbed Mont Blanc recently and has his sight set on two other peaks for 2020: Kilimanjaro and Elbrus, If you want to follow Justin, here is the link.
Kayane Carneiro
Why: What can I say: Kayane's posts brighten up your days (and I don't even speak Portuguese, so can't read them). Her pictures are full of life and are brimming with a positivity. Amazing pole dancing shots, stunning pictures from her travels, soulful photos from professional shoots. If you want to follow Kayane, here is the link.
Lasse Madsen
Why: Last but not least: Lasse. This guy rocks. As in seriously rocks. Seeing him and how he uses his Genium knee as well as a running blade is a great reminder of what is possible as an amputee if you put in the necessary trainings. Lasse gives hands-on advice for amputees. He recently published a book about his experiences and I am sure we will hear plenty more from him in 2020. If you want to follow Lasse, here is the link.
Further Reading