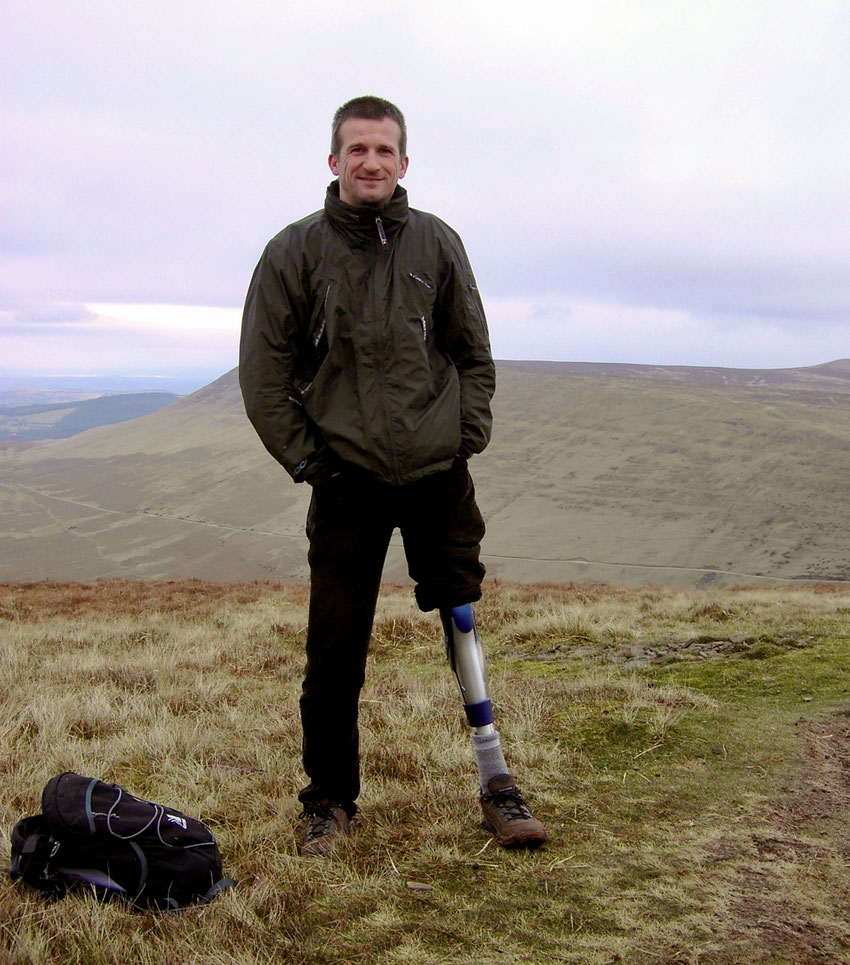 Two Years Of Information, Inspiration And Encouragement
The days of the ugly covers for artificial limbs are finally over.  While many prosthetists offered some sort of cover or another, more often than not they tried to imitate the look of the remaining limb. And often, very often, it wasn't even a good imitation. Designed for function, not for style, they were off the shelf models with a standard look. Dull, boring, lacking any creativity. But recent years have seen a new trend. With the increase in 3D printing a number of start-ups have specialized in providing prosthetic covers, enabling amputees to express their own style and allowing them to wear their prostheses with pride. One of the newest providers of prosthetic covers is ce:koon from Upper Austria. And today I am speaking with Marcos Wakolbinger, its founder and CEO.
What If…?
Two years later: A few days ago I caught myself browsing through the long list of posts that have been published on my blog. Way over 150 by now. What a privilege, I thought, to be able to get to know so many of you. I never knew how many incredible amputees are out there. People who really beat the odds and push the limits. And while I always considered myself to be active, I often felt like a bit of a couch potato when seeing what some of you are up to. A good reminder that the world out there is a huge playground offering endless possibilities.
But the upcoming anniversary was not just an opportunity to think about all that has been and the often tragic events that brought us together. It was also a welcome opportunity to pause and reflect. And it was also a rare occasion for playing around with some 'What if…?' thoughts.
But before I dive into my reflections, let me start with a little disclaimer. I am normally not a bit fan of the 'What if…?' sort of questions. When things happen, they happen. In my eyes, there is little value in whingeing about it and feeling sorry for yourself. And when a situation needs a decision, then I am a great fan of taking this decision and move on. Be brave, if possible. Embrace the change and see if it can be the new beginning for something exciting. And then make the best of it.

My Journey
But this time I caught myself hanging on to one of those 'what if…?' questions. My journey towards an amputation started back in 2004. By then I still had two legs. I has just ended a three year contract in Uganda and after a brief stint in Germany I had moved to London to start a new job. In between I had a minor surgery replacing the main bolt of my endo-prosthesis. Over the years this metal bolt and the housing in which it ran had been worn out and the whole knee was in a pretty sorry state. All wobbly and unstable and I found it hard to walk and often found myself in pains.
Soon after the surgery and my move to the UK, I developed an infection. I spare you the polaroids, but let's say it wasn't a pretty sight. The fact that I had to cut it open while traveling off the beating track in remote areas in northern Uganda and southern Sudan didn't really help. The tropics aren't the best place to keep a wound clean. Back in Europe I tried to get on top of the infection. But in vain. After a year in and out of hospital, with various rounds of antibiotic treatments I knew it was time for a big decision that would impact the rest of my life. But as I said: If a decision needs to be taken, I like to take it and then get on with life.
So I took a few weeks off from work, did my research, browses the internet, looked into the available options, spoken with medical personnel and others and soon it clear to me that an amputation was the best way for me to move on. Most doctors I spoke to tried to talk my out of it. They tried to convince me that it was too early for such a life-altering step. Instead they proposed something different: There idea was take out the old metal implant, keep my leg stretched with an external fixator for three months while I am on strong antibiotics before putting in a new metal implant. After an additional three months I would be able to start putting weight back onto the leg again.
While remaining with two legs was a tempting thought, there was one big down side to this solution. A very big and decisive downside, if you ask me. The proposed procedure was completely incompatible with how I wanted to live my life as it would leave me with a stiff leg. Yes, I would lose my knee joint. In addition, the new implant would have to be driven much higher up into the femur in order to be anchored in the bone. And the lower end of the old metal implant would have to be broken out of the surrounding bone so that I might actually have a problem when trying to fix the new implant into the remaining lower tibia/ankle resulting in a very weak connection with high chances of breaking easily.
'Nope, that is not for me! I prefer an amputation and then get on with life!' was my answer. And so I did. 
The actual amputation and initial rehab went amazingly well. Three months after the amputation I was back into my normal routine and went on my first six kilometers hike in the Brecon Beacons National Park in Wales. Once the Christmas holidays came to an end I went back to work. Full time. Including regular business trips to Uganda and Sudan. I had my ups and downs since then. To say that there were no challenges would be a lie. But I have never regretted my decision to have my leg amputated. Not for a single day. Most of the time I was able to life a more or less normal  and active lifestyle. I can work. I can walk. I can be outside in mother nature and be active. And while I have - often long - periods when I am struggling with the fit of the socket and other joys of being an amputee, I know there are solutions to these problems. And sooner or later they will be solved.

A Glimpse Into The Alternative
So where does the 'What if…?' moment come in? Well, recently I had the chance to get a glimpse of what the alternative would have been like. My prosthesis has been playing up for some time. As I am abroad at the moment for a longer work assignment, seeing my prosthetist just isn't an option. In order to safe batterie and make sure the knee is not suddenly collapsing under me, I put it in deep sleep mode. And yes, that means it is more or less stiff and I walk as if I had my leg in a plaster cast. Possible, but for from ideal. And a real bummer for my back, my hip and pelvis and my other knee.
Feeling the severe implications and the enormous impact of a stiff leg on the rest of my body and seeing how drastically it limits my mobility is a stark reminder of what life might have looked like if I had not insisted on the amputation and had settled on the proposed alternative. Seeing how my whole body is negatively affected after only a few weeks with a stiff leg and noticing how it impacts on my mood and general wellbeing makes me thankful. It let's me appreciate my active lifestyle of the last fifteen years even more. I reminds me to never take anything for granted and enjoy life while I can. 
And that brings me back to the second anniversary of The Active Amputee. When I started this blog I had a simple goal on mind. I wanted to inspire people with limb differences to life a fulfilling and happy life. I wanted to give them the information they need to make informed choices about their options they have and the support that is available to them. And I wanted to engage them in an active life-style, try out new things and enlarge the zone in which they feel confident. And I hope that for many of you The Active Amputee has been just that: A source of information, a place for inspiration and an encouragement to be active. 
Further Reading