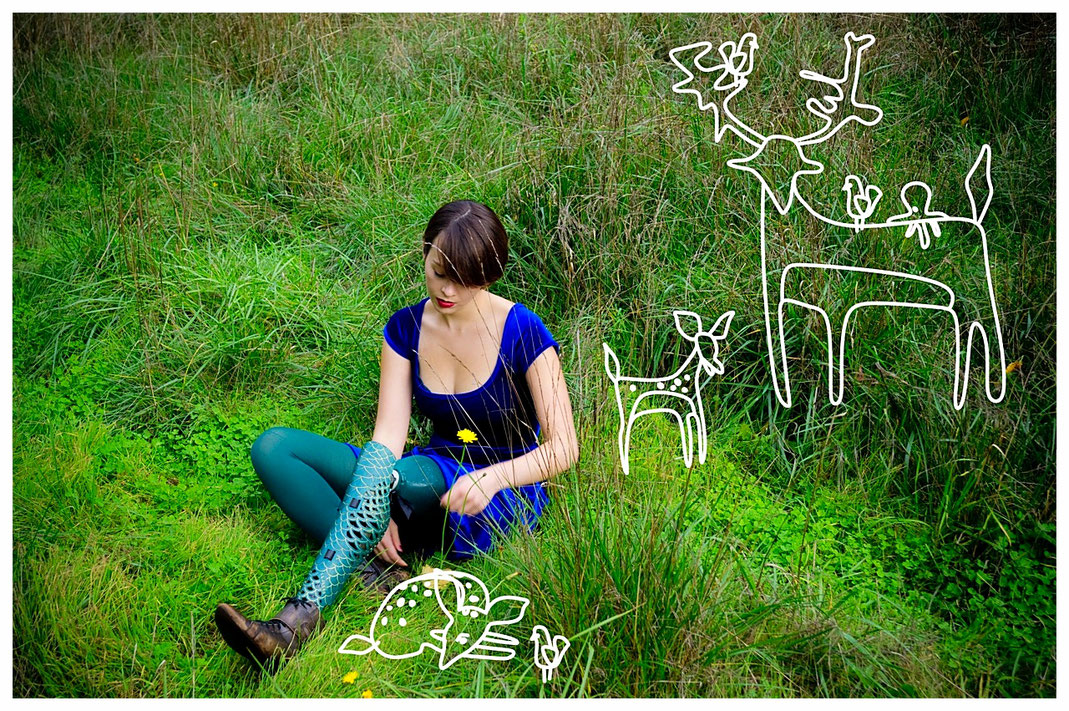 Celebrating Amputations And De-Stigmatising Disability
I recently published a short overview over various companies producing prosthetic covers (you find the full article here), pointing out how the recent developments in 3D printing allow people with amputations to express their individual style through the look of their artificial limbs. As several people expressed an interest to learn more about the choices we amputees now have, I decided to run a series of articles over the coming months, showcasing some of the companies developing and producing these stunning covers. And we kick off this series with an interview with McCauley Wanner from the ALLELES design studio in Victoria/Canada. 
Using The Power of Fashion To Individualise Medical Devices
McCauley, how would you describe ALLELES in a sentence or two to someone who has never heard about it?
We are trying to do for prosthetics, what a previous generation of fashion designers did for eyeglasses. By using fashion, we have the power to individualise medical devices, in our case, creating interchangeable fashion-forward prosthetic covers. 
Can you tell us a bit more about your personal background/the background of the people involved in setting up ALLELES? 
I co-founded the ALLELES with my partner, Ryan Palibroda in the fall of 2013.  We met at the University of Calgary where I was doing my masters of Industrial Design and Ryan was doing his masters of Architecture. I have always had a love for fashion and a knack for styling.  Ryan actually made his living as a painter for ten years before he decided to go back to school and get his architecture degree. 
When did the idea to produce covers for prosthetic devices first come to your mind? And can you tell me a bit more where the initial idea to produce prosthetic covers came from?
The research was part of my Industrial Design Thesis in 2010.  I wanted to look at different different ways fashion could be used as a tool to add personality and soul to medical design and debunk the common misconceptions of the frivolity of fashion.  I looked at different assistive devices such hearing aids, walkers, wheelchairs, catheters, bloodbags, insulin pumps, etc. and ended up getting introduced to John-Paul, a prosthetic wearer who had a lot to say about the lack of choice for amputees regarding cosmetics.  
At this time, Ryan was doing his masters of Architecture so we were in the same faculty which is how we met.  After school we moved from Calgary to Montreal to work in design. Ryan was part of the design team for the CHUM super hospital and I interned briefly at Dress to KILL magazine as well as worked as a User Experience Designer at a digital marketing company, Twist Image.  During our time in Montreal we were always discussing how we could take my thesis from an art project to an actual business.  We ended up saving enough money to buy some fabrication equipment and in the spring of 2013 moved back to Alberta to live with my parents while we started the ALLELES. Our idea of ALLELES was to be a more well-rounded design studio and thought we would use the prosthetic covers as the first project in our portfolio, but it ended up taking off and four years later we are still working on it!
Developing Your Competitive Advantage
What do you think sets ALLELES apart from other companies producing covers for artificial limbs? 
Our product and company culture is vastly different from other prosthetic companies offering prosthetic covers. Firstly, we are a design studio not a prosthetic company. We come from design and fashion backgrounds, not prosthetics. We designed our product around the idea of shop-ability. Meaning our prices are public, our prices do not fluctuate based on someone's insurance coverage, you can order you cover directly online without the need of going to a clinic (unless that is someone's preference of course), they are interchangeable between different prostheses, and the sizing is meant to be similar to shoe sizes so people can easily reorder, we come out with collections a couple times per year so that we can keep our designs updated and fresh.
Before starting with ALLELES, did you have any contact with amputees or people with limb differences? In the initial phase of setting up ALLELES, were any amputees involved in developing the initial concept? How about now that you are established?
One of my classmates introduced me to his good friend John-Paul in 2010 during my thesis. John-Paul gave insight into his experience as teenage, cancer survivor who was so thankful to have fought his battle, but was embarrassed about leaving the house because of the appearance of his prosthesis. This was mind boggling to me, and when we started discussing different cosmetic options he was so excited that there could be options to make his prosthesis more attractive. 
Sticking To A Vision To Overcome Initial Scepticism
When you look back, what was the initial reaction of people around you when they heard about your idea? What were the main challenges - from a business perspective, from a technical perspective, from any other point of view - when setting out to set up ALLELES
When we first started the company we were met with much skepticism from both end-users as well as the people within the prosthetic industry. Around this time there were a few art projects that had been  published, which continuously got the hopes up for amputees with products they could never actually get as they were only 'conceptual art projects'. Coming from a design background we had to tough out the first couple of years to gain trust from amputees that we were actually trying to create a product and user experience that would allow them to buy something that they saw online and prove that we were here to stay. The skepticism from the prosthetic industry was even greater as we were (and still are) one of the only companies that offer a prosthetic product direct to consumer with published pricing. We wanted to give our clients the ability to browse and shop online like everyone else. This was not and is still not done in the prosthetic industry. We are definitely doing things much different than how things currently work in a typical medical environment where products are based around insurance.   
Honestly to overcome these challenges, we just kept sticking to our vision. There were a few early adopters at the beginning that just 'got it' and they kept us going. We knew if a few people liked the idea of being able to shop for a prosthetic cover as you would shop for a pair of shoes, others would probably like that too. We didn't really care too much about 'selling people' on the idea at the beginning, we just wanted to keep working on making the product and ordering process better. We thought if we ended up making ten covers for ten different people we would be doing pretty good. Now we've made a few thousand. 
The Highlights Of ALLELES' Journey
Looking back at the last couple of years, what are you most proud of? What are the special moments you like to look back to?
There have been a lot of moments that hold special meaning to us just merely because of timing and the phase of where we were as a company and where we were mentally as people.  
We won a major design award with the Toronto Design Exchange as the 'Emerging Fashion Designers of Canada for 2014'. At this point we were operating out of a tiny shed on the side of a highway in the prairies and had only sold a few covers. To be selected in the for the 'Fashion' category as opposed to the 'Industrial Design' category was a huge win for us. It meant that the right critics were seeing the product how we wanted it to be seen. It wasn't supposed to be another 'engineered, product design'... it was meant to have the personality, edge, human nature that fashion possesses. So to get that type of recognition for the studio at that time was life-changing for us.
Showing our work on a major fashion week within a couple months of launching also catapulted us into the mainstream fashion community early on. We ended up getting a lot of press in the fashion and design community which is the platform we wanted for our clients from the beginning.
After about a year we started getting a bunch of early-adopters submitting really beautiful and artistic images of photoshoots they did wearing their new covers. Many people would write us and tell us that since having their covers it encouraged them to express themselves through art and gave them the courage to show off their prosthesis in a more positive way rather than feeling ashamed. This was an extremely unexpecting result of the covers and reinforced the need for this type of work to exist in the medical realm.
We got to go to the Whitehouse where one of our ambassadors, Mama Cax represented us at the first ever fashion show held at the WhiteHouse. This was a surreal experience that again reinforced how important personal choice and inclusive design really is and how much work still needs to be done in this area. 
Lastly and probably most importantly, repeat customers. Our vision was to create a product with a similar shopping experience and pricepoint as buying shoes, with the idea that eventually people would have multiples and would be able to accessorise different outfits for different occasions. We are getting to the point now where many of our clients have two covers, if not three or four!
What Are The Limits Of What Is Possible?
If I look at the vast range of models and designs you offer, I wonder: Are there any limitations to what you can do? Or is it basically: If the customer has a good idea, a special wish, a challenging need, we get it done!
I think there are two different areas here. In terms of artistic expression, we do offer custom covers where we will collaborate with our clients to come up with different artwork that they want to see. Right now we have a long waiting list for custom artwork and try to push people towards our ready-to-wear designs. We also find that people want to buy what they see, so most times people do prefer to order through the ready-to-wear designs.  
Secondly in terms of fit, we are pretty flexible and always work with clients if they have a more complicated prosthetic set-up. We usually need to know some of these things beforehand so we know if we have the time to tackle a complete redesign of the product or if they are going to be waiting for a long time to get something custom. 
How many different designs do you currently produce? And which one is your personal favourite?
Right now I think we have about 54 different designs and over 28 colours. Our favourites change all the time.  A design won't really seem like anything special then all of the sudden we see a photo of one of our clients wearing it and the way they have it styled and how it goes with the rest of their wardrobe is when the covers really come to life.  Our clients make the covers interesting, not the different designs.   
Can you share any details about the process of making the covers? Or is this part of the business secret? Can you share some stories from the initial try and error phase?
Trade secrets ;)  
Trial and error phase.... lol ummm too many to count! We are still learning every single day on how improve the product and enhance the quality/ease of use. 
"We Haven't Even Begun To Scratch The Surface Of What We Want To Do!"
May I ask you how many covers you sell per year? Do you know in how many different countries your covers are currently worn?
Sales numbers are a bit of a trade secret currently.  But to date we have sold a few thousand.
We have sold to approximately 30 different countries. 
What are ALLELES plans for the future? Anything you are especially excited about?
We are hoping to release a few new products and extend into more mainstream fashion and accessories, while always maintaining an inclusive approach. Now that this product seems to be working quite well, it frees us up to start focusing on more design work. We feel like we haven't even begun to scratch the surface of what we want to do, so it is an exciting spot to be in for the future of the studio.
I would lie to thank McCauley for this interview. And for providing amazing pictures for the article.
If you want to learn more about ALLELES and its amazing covers, you also find them on Facebook, Instagram and Twitter. 

Interview with McCauley Wanner. McCauley is the Co-Founder and Creative Director of the The ALLELES™ Design Studio Ltd.