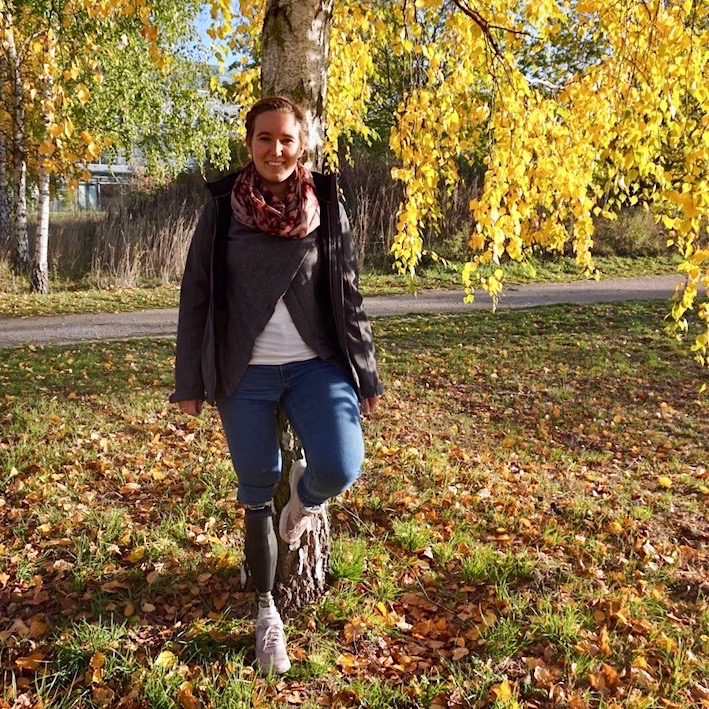 Tested For You: The Genium X3
In the first part of this interview we got to know Jasmin and Andreas a bit better. The two of them shared their personal stories with us. They told about their plans for the future and what they expected from a prosthetic device to help them live their dreams. 
Andreas and Jasmin are currently testing the revised Genium X3. The knee as well as some other parts are provided to them by Ottobock so they can test them for a month. Today we will hear about their experiences so far.
Interview With Two Test-Walkers
You are the two people who are currently testing Ottobock's newly revised Genium X3 knee joint to see how it performs in your everyday life. I've been using the Genium myself for almost five years - although unfortunately not the X3 - and of course I'm very interested to get to know more and see what the new version of the knee has to offer for us amputees. If you two could summarize the experiences of the first two weeks in one sentence for me, what would this sentence be?  
Jasmin, 27
"With the Genium X3 I feel totally free. No more worrying about my movements. It gives me back so much quality of life. "
To learn more about Jasmin, follow her on Instagram @prostheticlife.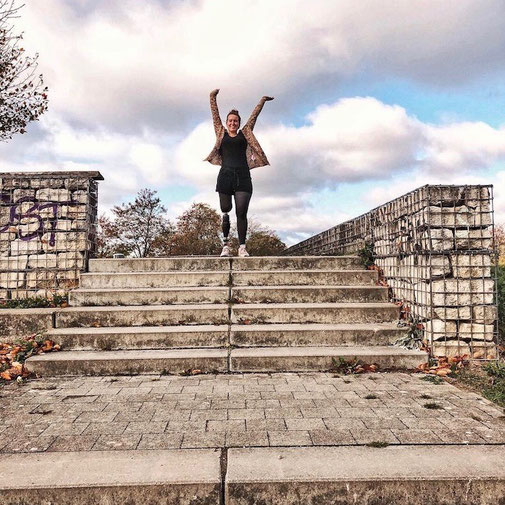 Andreas, 38
"With the new OPG2.0 we have moved a bit closer to 'natural' walking again.
To learn more about Andreas, follow him on Instagram @bionic.pilgrim.
Let us hear a bit more about your testing so far. What have you done with the knee, which activities did you try out? What tasks did you put the knee to and how did it perform? Which foot do you use? And how did it go?
Andy
I started using the new knee in all aspects of my everyday life straight away. I was in London with it. There I walked 15-20km through the city. Stairs up, stairs down. I was in Porto, a city that literally doesn't have a much of flat ground. There I also used the opportunity and jumped into the Atlantic - with my leg. Together with my family I was in the Alps. And after one of our hikes in the mountains we visited a spa where I could jump right into one of the hot springs. In addition I'm daily in the Gym, where I train with heavy weights.
So far there was nothing the knee wasn't up to. To be honest: It's more likely that my 'original parts' - speak my body - tires out before the Genium reaches its limits. Currently I have the Triton Heavy Duty foot. However, that's the very foot I have been using for some time and therefore already know it a little longer. 
 And Jasmin, how did the first weeks go for you? 
Jasmin
Since I've been testing the knee, I've been trying something new every day. It gives me so much security that I suddenly dare to do things I couldn't do before. These are often little things, such as jumping from a higher stone with the prosthetic foot first and being able to fully trust the prosthesis. Or running the first steps. My first steps felt like walking on clouds. Walking just feels so unbelievably natural, that I sometimes forget the prosthesis completely and don't think about every step anymore.
I currently have two different feet that I can change with the Quickchange adapter. These are the Triton Heavy Duty and the Meridium. Both are very different. The Meridium is an electronic foot with an amazing range of motion in the ankle. It adapts automatically to the ground at any time. If you walk uphill, the foot lowers naturally and feels as if the incline has suddenly disappeared. It can easily manage uneven ground and more difficult terrain. With its range of motion and supported by its electronics, the foot can even adjust to different heel heights. A difference of up to 5 cm is possible. 
The other one, the Triton, is basically a carbon blade that gives you a lot of rebounce when walking and running. That makes walking very comfortable and less strenuous. Above all, the foot is great for fast movements and supports me in being active. I mainly use this foot because it can keep up with my walking pace perfectly and I like the suspension very much.
One thing I do now every day since I started testing the Genium X3 is walking up stairs alternating my legs. For me it's an incredible function. Even before the amputation, I would use my left leg to get up stairs as I could only drag my right leg behind me. Always taking  one step after the other. This often caused back pain and high stress on the other knee. The possibility to walk up the stairs normally is simply great. To trigger this feature, the one that bends the knee when walking up stairs, you need to swipe back with the prosthetic foot. My physiotherapist always tells me to imagine pushing a piece of paper back with my foot. After a short time I got the hang of it and was able to take the first steps up the stairs. Ion the beginning, the most exhausting thing was to push the knee joint through again in order to get up the step. And even after two weeks, this is still demanding, but I gets easier every day. Stairs that initially left me all sweaty, huffing and puffing when reaching the top, I now manage without interruption and fluently. There is still room for improvement. But practice makes perfect and my muscles are getting stronger, now that they are finally again teased to work harder and do more. 
I use the intuitive stance function very often. I am very active and walk and stand a lot during the course of a day - both privately and at work - this function is a real game changer for me. When standing I can now easily take weight off the remaining leg and relief it nicely and comfortably; I can give it a well-deserved break, so to speak. Especially on inclines I don't have to put all my weight mainly on my left leg so that the prosthesis doesn't give way. Even if the Genium is bent, I can put weight on the knee and distribute my weight evenly on both of my legs.
When hiking, the Genuin X3 was a perfect support. The staircase function allowed me to climb over stones and branches. Even on steep mountain paths I had no problems at all. I placed my foot where i needed it, was able to put weight on the knee even if it was bent and then make a completely normal step. The knee recognizes this immediately and holds me. Simply great. The contraction of the Triton and the carbon blades feed back a lot of the kinetic energy which really helps to move dynamically and walk fast.
At work, the Genuin X3 has also been a great support me so far. As a social worker, I often work with groups of children. My highlight was definitely the Halloween party with over 80 children. There is no time to think about every step. Everything has to be done quickly and often intuitively. And I was able to do just that. The evening was an absolute aha-experience for me. Amazing how natural a prosthesis can feel. At the end of the evening even dancing with the kids wasn't much of a problem.
My biggest highlight so far were my first steps running again. But I'll tell you more about that later. 
If you compare the new Genium with your expectations and  your demands towards a prosthetic knee given the situations in which you mainly use it, what were your experiences? Where is the real added value in everyday life? What makes walking easier, safer or more comfortable?
Andy 
I have a very varied and above all spontaneous everyday life. Even with the old Genium X3, I was able to manage this well. The updates now make it even easier for me. The new OPG2.0 is a noticeable relief for me, given the many kilometers I walk every day. The new Mymodes and the adjustment possibilities of the app are also a real help. And of course the new components like the waterproof rotation adapter. I always felt safe on the Genium X3. Through the improved trip protection, this feeling has yet again increased. No matter if you are on flat ground, off the beaten track, while doing sports or just relaxing and enjoying a bit of time off.
Jasmin
I was most impressed with how natural the new Genium X3 feels.
Walking is less strenuous and I can change my walking speed in seconds. The various phases when walking, placing the foot, moving the weight onto the prosthesis, then pushing the knee through - it all feel almost like walking with a real leg. This makes walking much easier for me.
The fact that the knee can also be used safely when not completely extended, when you are on slopes or on stairs is great for me. It allows me to change direction easily and without worrying. The knee doesn't just give way and I can fully load it. That gives an incredible amount of security. Walking backwards is also no problem at all. 
For me, the fact that the prosthesis is waterproof is also a real benefit. I don't have to be afraid that the knee will be damaged in extremely heavy rain. I can now simply walk through a creek without any worries. I am passionate about the outdoors, even when it is paining cats and dogs, and so this makes my everyday life a lot easier. 
The Genium X3 also supports me perfectly at work. As a social worker, I work with children. I have to be able to react intuitively and quickly, squat down, change my pace, cover longer distances and, above all, walk safely outside and even if I do not watch each and every step carefully. 

Have you also used the new app and maybe even some of the new pre-programmed modes? If so, what can you tell us about it?
Andy
I use the app almost every day. However, in addition to the two standard modes "cycling" and "extended standing" I have I created my own modes. But I went through the list with my technician. There is something for everyone. The handling of the app is simple and self-explanatory.
Jasmin
The possibility to switch between the different modes via app is ideal. In addition to the basic mode, five further modes can be set on the mobile phone. The choice of pre-programmed modes is really big. Others can be created individually by the orthopedic technician. I'm currently using the modes mainly for cycling or the crosstrainer in the gym. With just one click I am directly in the new mode and can get started. I also use the yoga mode for my weekly Pilates or yoga classes. The resistance from the knee is set higher so that I can glide slowly into the different positions until the knee is in my desired position. This allows me to reach positions that were not possible before. This makes training twice as much fun. The big advantage of the app is that I can now mute the acoustic signals if necessary. When I do Pilates exercises on my back and stretch my legs upwards into the air, I can turn off the beeping of the battery indicator and don't bother my colleagues with it. 
When hiking, when it goes downhill, I like it when the knee bends smoothly and in line with my rather fast pace. For stairs that would be too fast for me. Now I can simply lower the resistance when out in the hills.
I have had some more modes set on the app and am already eager to test them in the next two weeks. 
As you know, I am a big fan of stories and anecdotes. Could you both briefly describe the most memorable moment from the last two weeks? 
Jasmin
My absolute highlight of the last weeks were my first steps of actually running. It cost me a lot of effort to "jump" into the first step and to trust the prosthesis 100%. But it was absolutely worth it. For 12 years I didn't even dare to dream that one day I would be able to run again. That was due to my medical history. So running again was simply unbelievable. Together with my husband I ran the first bumpy steps before bursting into tears of joy. Really an indescribable feeling. Since then I've always had the urge to just run and try again and again. In order to become more confident I still need to practice a lot. But I now know it is possible. And this feeling of running again, even if I am not running smoothly, it's still indescribable. 
Andy
A great moment for me was  the moment when we decided to go swimming spontaneously after a short hike during our family holiday in Austria. This once again showed me that I can participate in everyday life in a normal way. That's what's most important to me.
When I listen to your experiences, it's obvious that you are very satisfied with the Genius X3. But is there anything where you think there is still room for improvement? What could be better? What feedback would you like to give to Ottobock for further research and development?
Andy 
I think that the new Genium X3 has made a significant step forward again. Especially the new OPG really helps to walk more naturally and to have less pain as a result. In addition, the waterproof rotation adapter is a real milestone.
I think most of the potential lies in the socket. If you look around, most amputees struggle with having a well-fitting socket. Of course knee joints could be lighter, support even more in some areas, etc. But I think we are on the right track. For me personally it would of course be interesting if some components were designed for a higher body weight. Especially the feet, the Quickchange adapter and so on. 
Jasmin
After the two weeks of testing, I'm totally thrilled that I can't point out things that should be improved right now. For me, natural walking is just the most beautiful thing. And in this regard my demands towards a prosthesis are totally fulfilled at the moment. 
Well, there is one tiny little thing that would actually sometimes make my life a bit easier. Although I really don't really need it that often. When kneeling down, it would be helpful to get further down before the knee locks or the prosthesis hits the socket. But that's really complaining on a very, very high level and I guess all the electronics and mechanics have to be fitted somewhere.
First of all, thank you both for the time and the openness with which you shared your impressions about the new Genium X3. I'm sure we'll hear from each other again soon. Until then, have a great time and lots of fun with your new knee. 

Further Reading