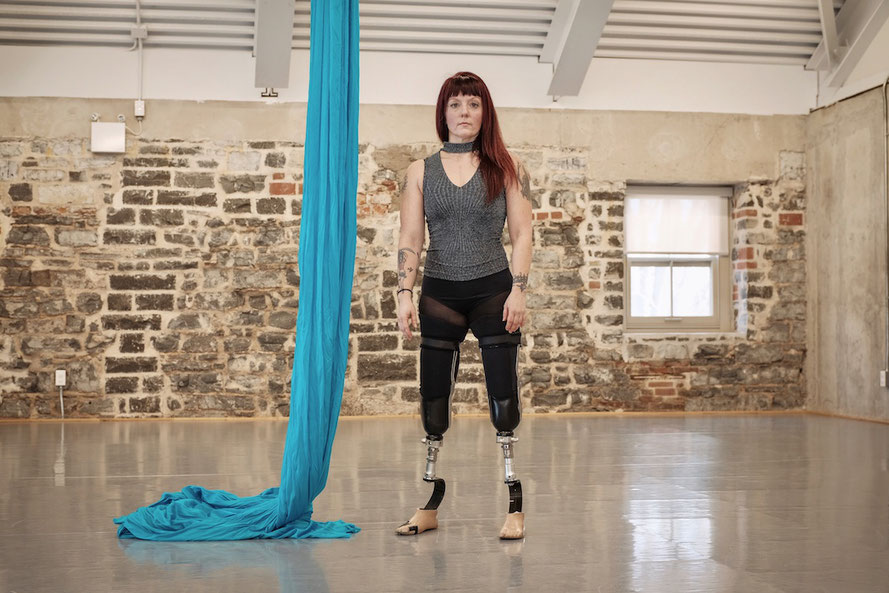 A New Course For Aerial Coaches Of Lower Limb Amputees
Erin Ball has been studying and training in circus arts for over ten years. Several years later, she began coaching. In 2014, Erin became a double below knee amputee (her story featured on this page in early May of 2017; read the full story here). Her circus practice changed, and eventually her teaching did as well. Erin has since worked with many amputees to achieve their dreams of exploring aerial arts. Eventually, Flying Footless, a course for aerial coaches of lower limb amputees, was born.
Offering New Experiences To Amputees
After my accident, I stayed in bed, depressed, for many months. Movement and returning to circus arts was what motivated me to get out of bed and start living again. I was very fortunate to have had so many years training and teaching under my belt so that I could explore aerial arts again safely in my altered body. 
I knew what the traditional shapes and movements were so I was able to figure out how to get to the same or similar places through new and different pathways. I also discovered many new places altogether. I explored dance trapeze, aerial silks, aerial hoop, rope, and eventually aerial wheelchair (an apparatus that I had created for me). In addition, I was training handstands, some hooping, flexibility and wheelchair acrobatics on the ground. I used my prostheses 
Amputees starting coming to my classes. I learn with every single new person that comes through the door. The biggest thing is that it is a matter of communication and respecting that each participant knows their body better than I do…they live in their body every single day. 
My approach is about defining terminology (what language does the participant use and not use), setting some parameters (determining what the boundaries are…can I physically move the participant, are they comfortable taking their prosthesis off if applicable, etc) and creating a mutual agreement to remain open and learn together, knowing that each situation is unique.
Sometimes it is about using the apparatus in practical ways…for example, I had a student pull up to stand using the fabric and then they held on to help balance. I also had a student in a power chair that could not sit up on their own. She held an aerial hoop to pull herself to a seated position and then to make shapes with the hoop. Both of these were huge moments for the participants, as the movements were something that they had not done on their own for a long time.
I have discovered many different and new-to-me wraps and climbs with aerial silks that I have found to be accessible to many amputees. There are so many interesting shapes that we can make that people with all limbs cannot. We also have so many options…unique leg attachments, using our prostheses, not using our prostheses, one longer leg and one shorter leg, etc. There is room for all of it in circus if we have patience and think outside of the ways that skills are traditionally done. 
The First Adult Amputee Circus Camp
I wrote a manual to go along with the course and I offer the course for coaches and anyone who is interested. I have also designed a workshop for movement professionals on creating more accessibility in classes and lessons.
In the future, I will be collaborating with another aerialist who is an upper limb amputee to create a program for coaches for upper limb amputees. I also plan to teach courses in wheelchair acrobatics.
If you are an amputee and you interested in trying circus and want to meet other amputees, I am hosting the first Adult Amputee Circus Camp in August 2018. 
Myself and several coaches who have been trained by me to teach circus to amputees are going to lead an epic week in Kingston, Ontario, Canada. 
Adult Amputee Circus Camp in August 2018
August 13-17, 2018. 
10am - 4pm each day. 
$300 CAD for the entire week
The week will include some/all of the following: creative warm ups, aerial silks, aerial rope, aerial hoop, trapeze, handstands, flexibility, hoops, partner acro, creative time, and so much more. If participants are interested in putting on a show at the end of the week, we will!
If the financial side is an issue, please contact to discuss. 
This is open to ALL amputees over the age of 16. NO EXPERIENCE NEEDED (also great if you do have experience!). If you would like help finding accommodations, I am happy to be of assistance. Contact me via email to sign up.
The venue is fully accessible. 
Please note flights, accommodations and meals are not included.
On a separate, but related note, one of my current dreams is to create an act with a large group of amputees. Interested and willing to put in the work? Please get in touch! Again, best via email.

Guest post by Erin Ball. Erin is a professional circus artist and coach. She lives mostly in Kingston, Ontario and part-time in Toronto. Erin has been a double below knee amputee since 2014. If you want to learn more about Erin and her work, please follow her an any of these channels: Kingston Circus Art homepage, Facebook or Instagram.