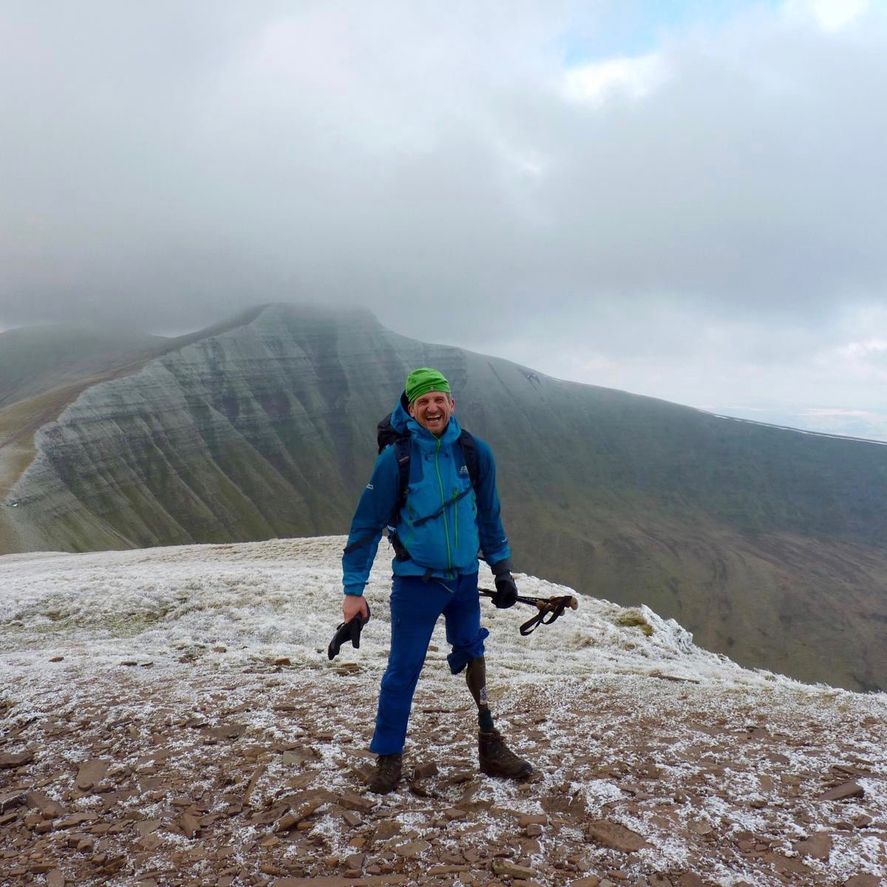 Winter is coming...
So, today is November 15th. And that means it's less than two weeks until the beginning of Advent on the one hand and the official start of winter on the other (at least meteorologically, if not yet in terms of the calendar). Winter is - in my eyes - a great time. I enjoy it every year anew: The long evenings, the cozy hours at home, and the quality time with family and friends. And as you all know, I'm also someone who likes to spend a lot of time outdoors, especially in winter. Something that is not always easy after a transfemoral amputation. 
Here is your November Episode of the Podcast
Here is the Podcast as a Blogpost
I can well imagine that many of you who are struggling with various limitations in your lower limbs are hesitant - maybe even fearful - when it comes to being active outdoors in winter. To help you overcome some of these fears and to encourage you to enjoy the winer season with confidence, here are a few tips from me. 
But before we get started, a quick disclaimer up front: I have been an above-knee amputee since 2005. And I  get on very well with my prosthesis - a Genium X3 from Ottobock. I walk a lot and feel comfortable, especially off the beaten track. And as I'm otherwise relatively fit, I'm not afraid of falling. If I slip and fall, well, so be it.
So the following tips and tricks are things that work for me. Of course, this may be completely different for one or the other of you. Please keep this in mind when you hear my tips.
My very personal top 10
So, here we go. My ten tips for all those of you who want to spend a lot of time outdoors in winter.
As an amputee, the ability to adapt to changing situations, to changing surfaces of the ground we walk on, and to unexpected challenges when being active in nature - and still feel safe during these times - doesn't come naturally. It has to be learned. And the great thing is that it can be learned. Confidence - and the associated feeling of increasing safety and real joy - comes with time and practice, i.e. by walking outdoors and doing so frequently.
By and large, it's relatively clear when we can expect winter. More or less, at least. It is therefore a good idea for all those who want to be active outdoors a lot in winter to start practicing in summer and autumn, the latest. Those who are confident on paved paths can simply try out uneven forest trails. If you already walk a lot on these uneven paths, simply wait for the next summer downpour, then jump into your rain gear, and try walking on muddy paths and slippery grounds. If you cope well with all kinds of conditions in your everyday life, you can start tackling paths that steeper, first uphill, then downhill; maybe on a marked path, maybe cross-country. There are endless possibilities to increase the level of difficulty incrementally. Only by doing this and slowly testing - and sometimes exceeding - our own limits do we learn what the prosthesis does under which circumstances, how we react in certain situations, where we feel safe and confident - and where that is not the case.
It's entirely up to you whether you want to try this out on your own or with others. However, I know from others in the limb loss and limb difference community that many like to have a helping hand nearby, especially at the beginning. Someone who can provide support from time to time and when needed.
No matter where you are on this journey of exploring what is possible, I can imagine that a pair of trekking poles will give you additional confidence and gradually open up doors to areas that would remain closed to you without them. So why not give it a try and see if that's something for you. And here too: Try them out in summer and fall, before you really need the poles and before gloves, ice, cold and wet conditions make it difficult and often more frustrating.   
As far as trekking poles are concerned, I would encourage you not to go for models from the discounter. Get good advice from your local outdoor shop, invest a bit more, and then you will have a pair of helpers that will accompany you for years. I have used two pairs of trekking poles over the last 17 years and am generally very happy with both. Both pairs are still in use and do what they are supposed to do (but I also just ordered a new pair for more demanding terrain). 
When it comes to trekking poles, there are a few points that I consider important. Others are secondary, at least in my eyes. Of course, there is the price. You know best what you can or want to spend. But good poles start at around 70.00 Euros. And the good news is that there are always excellent models on offer somewhere. Aluminum or carbon? This is a question of what you are willing to spend and has an impact on weight, but it was never really important to me. I've been using aluminum models for years because they're a lot cheaper. And they do their job. I've also always found it irrelevant whether a pole can be folded up particularly small or not.
However, I have always been interested in two details. Firstly, the way in which the individual segments of the poles are locked in place. On the one hand, there are screw/split dowels, i.e. the individual segments are simply twisted against each other. The dowel opens in one direction and you can adjust the length of the trekking pole. In the other direction, the dowel expands and locks the pole at the desired length. There are also so-called speedlocks. A clamp is fitted to each segment of the telescopic pole. If you fold it in one direction, the segments can be moved freely. If you flip the clamp back in the other direction, all parts are firmly locked in place. All in all, both systems work well. However, I find the speedlocks much easier to use in wet and cold weather, with mud on the poles, or with freezing and partly numb fingers or when wearing gloves.
The second important detail in my eyes is the grip. On the one hand, there are some materials that I like more than others (there are cork and foams and plastic material). In addition, I think it's important that the grip is quite long. This guarantees that you can adapt the pole to changing terrain (short, steep ascents and descents) by simply changing your grip without having to adjust the length of the trekking pole every time.
In addition to the poles, good footwear including a sole with a proper profile is of course important. Please be aware that people with a lower limb prostheses are usually unable to move their feet. The foot is normally set in a certain position. When walking downhill, this poses the challenge that we usually only use the last centimeter or so of the sole of our show .No problem on dry, firm paths. On mud and wet leaves it is more of a challenge, as the foot slips more quickly. On ice and snow, this quickly becomes a real fear factor for many. Here too, trekking poles can help by taking the weight off your prosthesis and distributing it to your arms until your foot is secure. So don't be surprised if you suddenly have sore muscles in your arms after a hike.
If you want more safety here, you can also use 'snow chains' and spikes that can be attached quickly (so-called Grödel). There is a whole range of different models on the market; from rather cute straps with six or eight small metal pins per shoe to solid models that look more like small crampons with 14-20 teeth per shoe. Some models are pulled over the boots using strong rubber or silicone straps (such as the Alpin Locker Chain Pro 18 Grödel). Others use classic straps (such as the Grivel Spider). What is suitable for whom depends very much on what you are planning to do and what terrain you want to be on. These winter aids weigh in at around 250-500 grams per pair. Icebug also offers shoes with small spikes already incorporated into the soles. 
And last but not least: please make sure that you do everything you can maintain a good and constant volume in your residual limb and thus a proper fit of the prosthesis. In other words: drink enough to keep the volume of the stump constant. Possibly get a new seal-in lip for the liner. Or play around with kinesiotape and other DYI tricks. I find precise positioning of the foot essential, especially in winter. And this requires a very well-fitting socket.
So much for my tips. I hope there was something for everyone. And now it's time to grab some winter cloth, grab a flask with hot tea, and head out into nature. Winter is a great time of year. Even for amputees. 
.WEITERE ARTIKEL