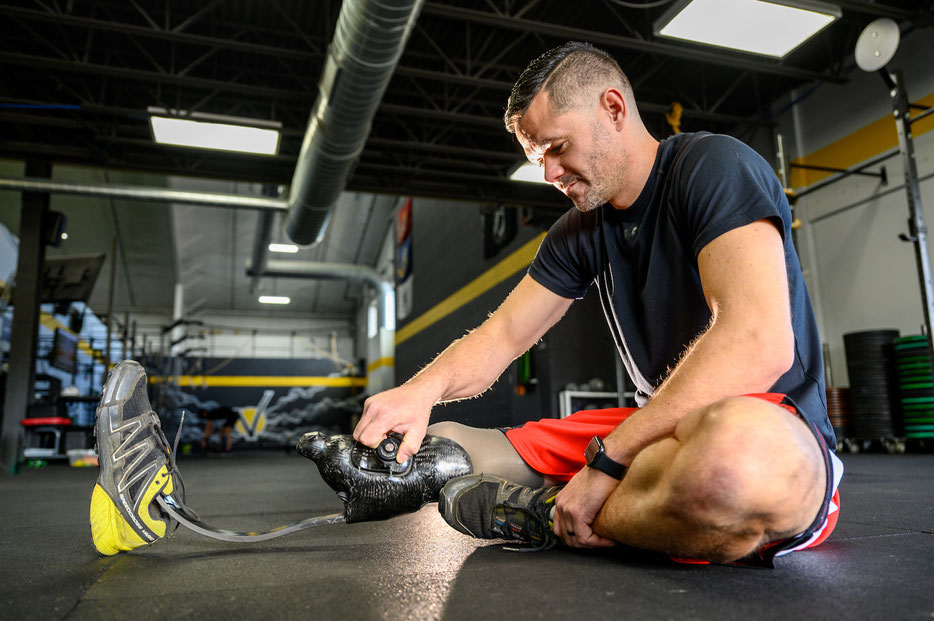 Bodies Change - And Now You Can Adjust
This article is part of a new and very exciting paid collaboration and strategic partnership with Click Medical. It's the first in a series of posts you can expect over the coming months, focussing on well-fitting comfortable sockets and adjustable systems to get there. As you all know, I have been struggling with issues around socket-fit for almost a decade. After the first five years after my amputation were plain sailing - read: I had a well-fitting socket, was very active with it, never gave it a second thought, and took all this for granted -, things changed around 2010. Despite working with a very experienced prosthetist, despite still being very active, and despite being willing to put in the time and patience it takes to build a good socket, things stayed challenging - and often frustrating. I moved from a skin-suction system to a liner system, I added seal-in rings, we played around with the form of the socket and different materials - and while all this brought some improvements, it was still far from ideal. I tried a few DYI approaches myself, mainly to address problems in between the visits to my prosthetist. And yes, they helped to some degree, but generally speaking, they were once again far from ideal. To be able to cope with volume fluctuations throughout the course of a day more flexibility and adjustability were needed. So you can picture the big smile on my face when I first heard about the RevoFit® system by Click Medical. I first saw it during a conference in London/UK, organized by PACE Rehab. It looked like I finally found what I had been looking for. A simple device that allows me to adjust the socket for the right fit when I need it, and without depending on a prosthetist. Seeing the RevoFit® system, I sensed this might be a game-changer for me and my struggles in regards to a well-fitting socket and living an active life. So when the time was ripe for a new socket, I gave it a try. 
---
Advertisement/Paid collaboration between The Active Amputee and Click Medical
---
The Basic Idea
The basic idea behind the RevoFit® system is simple: Sockets built with RevoFit® adjust in order to promise the right fit —all day, every day. And the adjustments can be done by the users themselves.
The Story Behind The RevoFit System
As so often with ground-breaking inventions that make a real difference in people's day-to-day lives, the story behind the RevoFit® system is one of coincidence and of being at the right place at the right time. Joe Mahon, a prosthetist and the founder of Click Medical, was out skiing with his wife when he got a phone call from a patient who needed tightening up of her prosthesis. Joe thought that if this patient could just do this adjustment herself, then he and his wife could continue skiing. But as this was not the case, he agreed to come back to the workshop and help her out. While still mulling over the need to assist his patient, his wife - a snowboarder - was tightening up her snowboarding boots. New ones which had this little dial that allowed her to adjust the boots for fit and comfort when needed and in line with her needs. Seeing his wife adjusting them on the go and hearing how pleased she was with this simple device, the idea for an adjustable socket was born.
How Does It Work?
The mechanics of the system are simple and easy to use. The socket can be designed to have panels, gaps or hinges. You and your practitioner can review what's best for your indications. The system to adjust the fit consists of Spectra Lace  and currently a Boa ® Dial. These components are laminated into a carbon fiber socket. Once that is done, the user can control the micro/macro fit of the device with a simple twist of the dial. This is can be done when and where you want. It's that easy!
Who Is Using The RevoFit system?
Click Medical has tested adjustable socket designs on adults, teenagers, top athletes, stay-at-home moms, professionals, outdoorsmen,  veterans, and many other uses. Whether you are an arm, a leg, or a joint disarticulation patient, adjustable sockets can increase your comfort and control. Great for new amputees that will change limb size over time.
If you experience any of the following issues, an adjustable socket might the right choice for you:
Distal pressure or skin issues
Volume fluctuations that impede your day-to-day lifestyle
Fit issues that require frequent visits to your prosthetist
Loss of activity because your device is uncomfortable
Difficulty donning or doffing your device
The RevoFit® system helps to address these issues as it...
...it reduces sock ply changes
 ...it can be adjusted through your clothing 
...you control your fit and comfort by simply turning a dial 
...makes donning and doffing easy 
...it reduces or even eliminates fitting appointments
Looking back at my own journey and using an adjustable socket for a variety of outdoor activities, I can tell you that the RevoFit® systems have been a game-changer for me. I am not pretending that it solves all the challenges that are associated with volume fluctuations and the need for a snug and comfortable fit be to be active and live an exciting lifestyle. But it addresses most of them. And it makes the remaining ones easier to deal with. 
The adjustable socket has been a key component to allow me to embark on multi-day hikes with 15-20 kilograms on my back, covering up to 25 kilometers a day. On the trail, I never manage to drink as much as I should. This results in an even bigger volume loss of the residual limb than during normal days. What proved to be an almost impossible problem to address prior to using an adjustable socket, is now solved by simply turning the dial in nine out of ten cases. This opened up endless new opportunities with more demanding hikes and new walking projects for me.
Or my love for outdoor activities on, in, and around the water. When engaging in water sports I like to have an even tighter fit of my prosthesis than during regular days. This allows for better control of my prosthesis even with a wet liner, when learning new activities like Stand-Up Paddling and the like, or when just goofing around with the kids in the surf. That in itself is worth a lot. In addition - adding peace of mind to my increased confidence - it takes away the worry of losing the prosthesis in deep water.
Similar to wet and muddy environments, I like to be able to adjust the fit of my socket incrementally when climbing. The more I actively use my prosthesis to work my way through a route - as compared to just resting on it while most of the actual work is done by the other leg - the more I prefer a tight fit. Something that allows for bridging and tow hooks, for unusual moves that tend to otherwise break the vacuum of the liner system. 
These are just some activities where the RevoFit® system comes in handy. It gives me control and allows me to adjust the socket as I see fit.
Learn More About Click Medical
If you struggle with similar issues, the RevoFit® system might be the right choice for you. Speak with your prosthetist and explore the options you have. Speak with the people from Click Medical and try it out for yourself as the kit can be used with a diagnostic socket.
To learn more about Click Medical and the products they offer, please visit the Click Medical homepage.
I also recommend taking the RevoFit quiz.