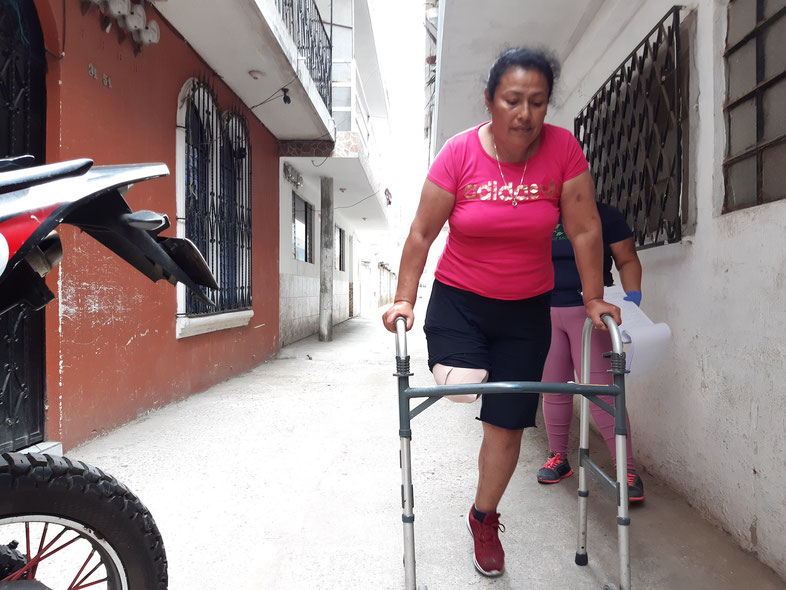 A Call To Action: Recycle For Mobility
There is great inequality in the worldwide distribution of prosthetic components: The supply is worst in populations with the highest need. It's tragic that so many components are oversupplied in higher-income countries while countless people in lower- and middle-income countries remain immobilized by the lack of components. This mismatch occurs every time an outgrown prosthesis gets shoved into a closet in the United States, or a non-billable component gets shelved in a warehouse in Germany. The solution to improving supply doesn't lie in catchy 'appropriate technology for the poor'. Instead it lies in improved access to components that already exist. To achieve this we must all be part of the solution: We must all choose to recycle for mobility.  
Meet The Range Of Motion Project
The Range of Motion Project (ROMP) is an international nonprofit organization with the mission of restoring mobility to people with amputation that face barriers to prosthetic care. We operate the largest prosthetics clinic in the country of Guatemala, and we also provide care in Ecuador and the United States. Our clinics are staffed with local, fully-trained prosthetists. They are equipped with everything they need to care for people of all amputation levels, at all stages of the rehabilitation process. Since ROMP was founded in 2005 we have provided over 4,000 prostheses to access-limited patients amongst our clinical sites. In the coming five years our vision is to mobilize 5,000 more people with amputation throughout the Western Hemisphere. 
Components For a Cause
I'm going to let you in on a secret to the impact ROMP is achieving: About 95% of the components we use are recycled. We collect them through our Components for a Cause (C4C) Program. C4C is a network of clinicians and patients throughout North America and Europe. They donate used and new prosthetic components and limbs. The process to do so couldn't be easier: The donor boxes-up the items and they request a free shipping label to send them to ROMP. Clinicians often do this as part of spring cleaning, getting rid of components they can no longer bill for or that have been phased-out. Patients usually donate their outgrown prostheses, and family members sometimes donate when a loved-one with amputation passes away. Some clinics even organize 'Limb Disassembly Days' in which they bring together staff and community members to do a service activity around collecting, processing, and packing components.
Once donations arrive at our warehouse, we disassemble entire prostheses and then process all components. Broken items are thrown away and incomplete items are made whole with existing inventory. We check that all components are fully functional before sending them to the field, without exception. From there we send components to our clinics in Guatemala and Ecuador to level-out their inventories using the kanban methodology. A steady stream of donations keeps our clinicians fully equipped to provide care year-round, uninhibited by stock-outs. This differentiates ROMP from 'parachute organizations' that focus solely on delivering a prosthesis but ignore the significant pre- and post-prosthetic care needed in each case.
We believe in being transparent with our donors, which is why we track each foot, knee, and liner all the way to the patient who receives it. This is made possible by a QR code sticker we place on each component at our warehouse in the United States. The sticker is scanned at the moment of delivering the prosthesis to a patient in Guatemala or Ecuador. We then send the donor an email with the patient's name and picture within 24 hours. This allows them to witness, in very tangible terms, the impact of their donation on a specific patient.
We Need You To Get Engaged!
Through C4C, ROMP has built a highly-effective system for translating a donor's willingness to recycle into new mobility for access-limited patients. Even 16 years in, we have only just begun to tip the scales towards a more equitable supply of prosthetic components in the populations with the most need. There is much more to be done, and we need your help to make it happen. Join the movement today through three simple steps:
We take it from there. And you will be notified when your components have been delivered to patients in need. The process is simple, the decision is simpler: recycle for mobility. 
You can direct any questions to c4c@rompglobal.org 
Wir sind auch in Deutschland! Siehe die Webseite auf Deutsch. 
In April we are holding our first-ever Limb Collection Drive in honor of Limb Loss Awareness Month. This is a better time than ever to join C4C, please check it out! 

Guest post by Jonathan Naber. Jonathan Naber is the Chief Program Officer at the Range of Motion Project. You can learn more about ROMP at rompglobal.org.