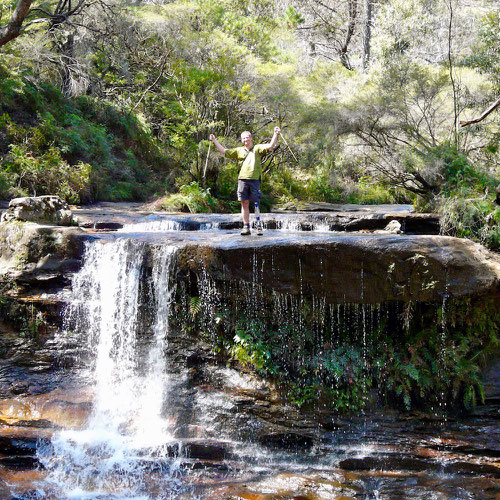 Update For February
Last month I announced yet another challenge for 2021. As I turn 50 this year, I want to add 12 more challenges for this year, One per month.  And each and every one of these challenges will centre around the number 50. I asked for your ideas of what these challenges and special activities should do. And you sent me your ideas. Some are more of a sporty and adventurous nature, others are different and focus on books, music, and other passions of mine. And as January saw me crack the 'being able to do 50 push-ups in one go' challenge, I decided on a book one for February. You asked about my 50 favorite books. And here is my list (an ever-changing list, I must admit).
My 50 Favorite Books
Here are my 50 books. Well, actually there are 60 books in this list as five are German books and five are cook books. And I must admit the clustering is a bit random and the line between some of the categories is blurred. But so what, have a look at the list and I hope you find some inspiration for your next trip to your favorite bookshop. Or get them as an audiobook for the next long journey in the car, the next long hike, the next time to chill out in the sun.
Adventure books
Tim Butcher: Blood River - A Journey to Africa's Broken Heart
Wilfried Thesinger: A Vanished World
Alexandre David-Néel: My Journey to Lhasa
Ilija Trojanow: The Collector of Worlds
Joe Simpson: Touching the Void
Travel Books
William Dalrymple: City of Djinns
Jamie McDonald: Adventure Man
Anna McNuff: The Pants of Perspective
Sam Miller: Delhi - Adventures in a mega city
Eliza Griswold: The Tenth Parallel - Dispatches from the Faultline Between Christianity and Islam
Fiction Books
Rohinton Mistry: Family matters
Jim Dodge: Stone Junction
Salman Rushdie: Haroun and the Sea of Stories
Elsa Morante: History
T.C. Boyle: Watermusic
Non-Fiction Books
Victor KLemperer: LTI - Lingua Tertii Imperii
Hannah Arendt: The Origins of Totalitarianism
William Dalrymple: Nine Lives
Edward Hooper: The River
Jeremy Scahill: Dirty Wars
Biographies
Nelson Mandela: Long Walk to Freedom
Palden Gyatso: Fire Under the Snow
Paul Neruda: Memoirs (German Title: Ich bekenne ich habe gelebt)
Alexander Maitland: Wilfred Thesiger - The Life of the Great Explorer
Breyten Breytenbach: True Confessions of an Albino Terrorist
Poems
Michael Leunig: When I talk to You
Khalil Gibran: The Prophet
Shel Silverstein: Where the Sidewalk Ends
Rabindranath Tagore: Gitanjali
Maya Angelou: The Complete Poetry
Children's books (which I also really enjoy)
Andy Stanton: The Mr. Gum Series
Norton Juster: The Phantom Tollbooth
Morris Gleitzman: Boy Overboard
Julia Donaldson: The Gruffalo
J.K. Rowling: The Harry Potter Series
Novels that taught me more about places I lived in or visited
Rian Malan: My Traitor's Heart
Giles Foden: The Last King of Scotland
Monica Ali: Brick Lane
Rohinton Mistry: A Fine Balance
Moses Isegawa :Abyssinian Chronicles 
Non-fiction that taught me more about places I lived or visited
Allister Sparks: The Mind of South Africa
Jill Jolliffe: Balibo
Gordon Weiss: The Cage
Amelia Gentleman: Windrush Betrayal - Exposing the Hostile Environment
Bruce Chatwin: Songlines
Books I read for work
John Paul Lederach: The Moral Imagination - The Art and Soul of Building Peace
David Peter Stroh: Systems Thinking for Social Change
James Dunn: East Timor - A Rough Passage to Independence
Adam Kahane: Solving Tough Problems
Philip Gourevitch: We Wish to Inform You That Tomorrow We Will Be Killed With Our Families
Cook books
Meera Sodha: East - 120 Easy and Delicious Asian-inspired Vegetarian and Vegan recipes
Nisha Katona: The Spice Tree - Indian Cooking Made Beautifully Simple
Yotam Ottolenghi: Simple - Yotam Ottolenghi's award-winning recipes are always a celebration: an unforgettable combination of abundance, taste and surprise.
Sabrina Ghayour: Persiana - Recipes from the Middle East and Beyond
Ravinder Bhogal: Jikoni - Proudly Inauthentic Recipes from an Immigrant Kitchen
German books
Heinrich Böll: Ansichten eines Clowns
Hermann Hesse: Der Steppenwolf
Berthold Brecht: Mutter Courage und ihre Kinder
Günther Grass: Die Blechtrommel
Frank Schätzing: Der Schwarm