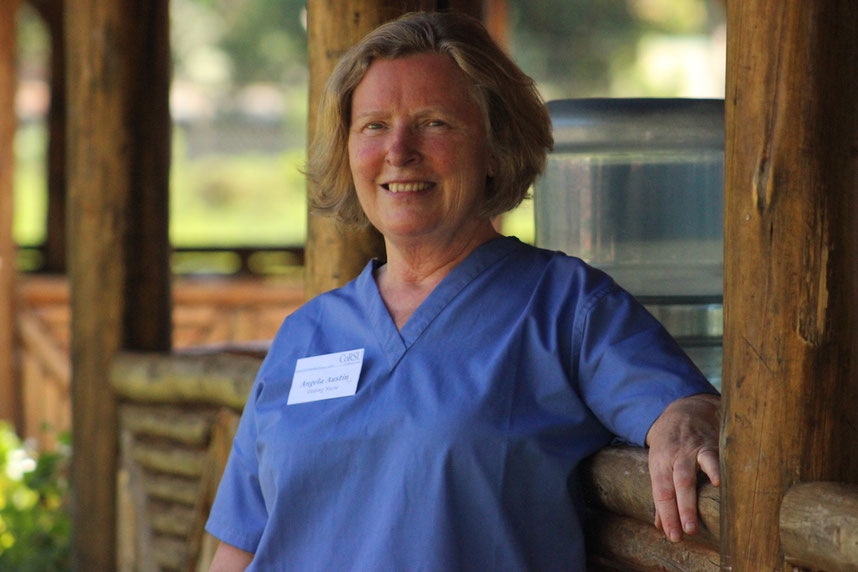 My Life's Journey Let Me To Uganda
I am Angela and I lead a humble life in London. I trained as a nurse in 1970 to 1974 majoring in Adult and Pediatrics. I had a passion to work in a ward majorly for children with disability. When I was expecting my first child, I could hardly bear the emotional toll of the seeing amazing little children suffering. Unfortunately, after having four healthy children, I still did not go back to nursing for quite a long time. I spent a bulk of my career in private practice, working with a general practitioner and a series of years in the non-profit space. I then took a drastic detour and trained to be a priest in the church of England.
When I first visited Uganda in 2010, volunteering with a charity supporting vulnerable children in schools in Kasese in Western Uganda I was deeply touched during the schools' outreaches we did. The need for proper and accessible health care that we highly take for granted in the UK, struck home so deeply. Recently, I visited with another charity and we were able to donate some medical equipment and funds.
Volunteering With CoRSU
Amazingly, I was invited to join the board of one of the schools we support. The desire to work with the children with disability that had been rekindled with the first visit grew. We kept finding lots of clubfoot, neurofibromatosis and knocked knees in the community. One of my colleagues invited me to visit the Comprehensive Rehabilitation Hospital CoRSU as she had heard of their services. I was amazed when I first visited; the comprehensiveness of the services offered, the quality of the hospital and the humane touch from the staff towards the children. I still am amazed. 
I wondered what it would take to have an experience in such an environment. Fortunately, after talking to Davide Naggi, CoRSU's CEO I was offered an opportunity to volunteer with them for four weeks. My first experience was with the Outpatient's Department; the sight of children walking in with pain and with poor mobility was so touching, quite reminiscent of my first experience with children with disability in London.  
I then moved to the theater, saw firsthand on the quality of equipment and dedication of the surgeons and then a week later was in the general ward; where the post-surgical management was done. I was able to get the whole picture from when the patient comes to CoRSU and appreciate the post-surgical outcomes with legs straightened of some and others beginning to walk during the rehabilitation. 
I spent the last week with the education-rehab team, spending tonnes of hours and being involved with the children in games, classroom work and rehabilitative sports. There was so much laughter from them, clearly showing the hope for recovery they had.
I was particularly drawn to Martin, a 16-year-old boy who was paralyzed from the waist-down from an accident six months prior and in much pain. He had so much hope, and believed he could walk again. I was equally amazed on the team that worked with the children when they got artificial limbs and were in no time walking around the ward.
Total disability has something to teach especially to children that have had disability in other ways. In the UK, there is a high fetus abortion rate whenever parents discover their children have a form of disability that will inhibit the development of the child in their latter years. The team at CoRSU has given hope to every child that comes through their doors. I wish all the children in the UK, even before they are born, would be accorded the same chance as those that walk through the doors of CoRSU.
What an experience I had.

Further Reading