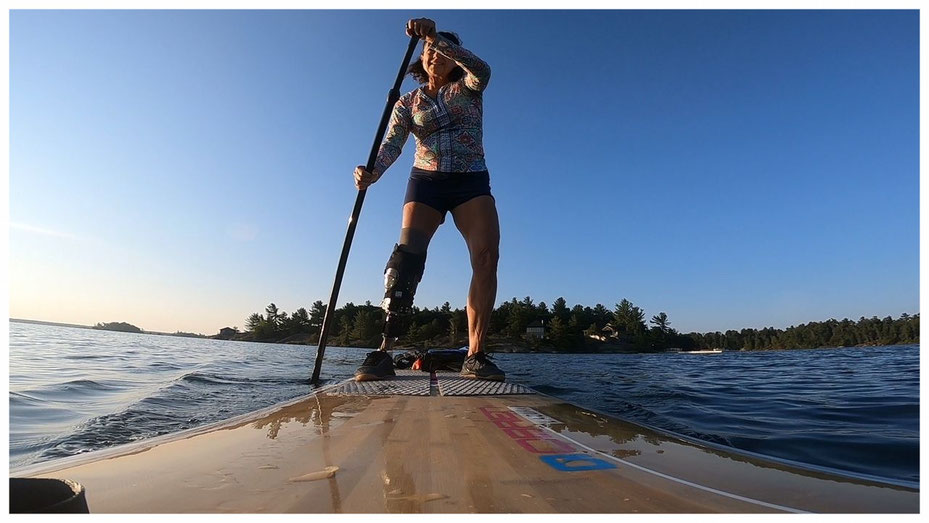 Limb Loss To Life Gained: Life Beyond Amputation And Becoming More Self-Aware
I am pretty steadfast in my belief that the body is self-organizing and self-healing given the right conditions. Mind you, knowing those conditions is another thing. I had to let go of "why" this was happening and "what else can I do". Interestingly, when I began to explore the option to amputate, some incredible experiences "appeared" in my life.
My below knee amputation was related to a synovial sarcoma diagnosed 10 years prior. I had been caring for it naturally until things no longer felt right and I had many insights that pointed me towards amputation. For example, one day when meditating and deep in the void of "nothingness", I felt so connected to a profound sense of joy, love, wholeness and expansion on the other side of the choice to amputate. I came out of that meditation with an understanding that I am so much 'more' than my lower leg.
A few years prior I had a conversion with a Canadian Paralympic team coach who recommended to "just chop it off to get on with living again." This man coaches elite parathletes with various amputations and he was certain I could really get on with life – I filed that conversation. I met him as he was coaching my neighbour's son Alex who had an amputation from a boating propeller accident when he was sixteen. I'd watched Alex change his life and become a Paralympian in snow cross. I also met with another amputee who lost his lower leg from an IED who was leading an active life and was running a program called "Soldier On".
Another significant "coincidence" was a meaningful elephant encounter while in South Africa the month prior to amputation. "Rambo", an 18-foot-tall, many ton, elephant who had part of his trunk amputated. What is the likelihood of me connecting with an elephant who had an amputation while I am seriously considering one? Odd perhaps in how mentors just show up but the message I received through this encounter as I touched his trunk and fed him was "let it go".
The same message kept showing up from my surgeon to friends. You'll be back up and fully functioning before you know it.
Yes there were concerns percolating around my grey matter. One was creating the space in my calendar to heal and adapt to limb loss. It was difficult for me as I'd made commitments to patients, speaking and teaching, and I was unsure when I'd be ready to get back to those commitments. Letting others down, breaking commitments and the worry by my friends and husband weighed on my mind. Plans just had to be put on indefinite hold. Lastly, being fiercely independent and having to ask for help was scary too. I just had to decide to get over that. To trust the process and completely surrender (let go) was hard until I decided it wasn't. Then it wasn't at all and I felt a sense of ease after I let go. Once I made the decision all I saw thereafter were temporary challenges. My focus was to be very present what I saw in the long term were upside benefits. I made the decision, and I was fully committed."
While discussing my surgery, a friend asked me what would help. That was pivotal because it got me thinking. I knew I did not want to be a victim, I didn't want the drama of condolences and hear yet another cancer story. I wanted the opposite. I wanted my friends and acquaintances to focus on my possibilities. I asked them to hold the energy to enable not disable.
I was very clear what I wanted from friends - to see me as whole. To see me experiencing the joy of life, laughter, surrendering and trusting this event. To see me navigating this significant change with love, grace and presence. To see my surgical team performing with mastery. If anyone was going to connect with me, There was a condition. Sharing the possibilities of a fulsome life, sharing feelings of wholeness and love or anything else that would increase my heart and brain coherence. I didn't discuss what would not work for me because that would down regulate healing capabilities.
What I experienced was such support and love from others it made my heart swell. The joy I felt when I opened my heart was omnipresent. I experienced gratitude from allowing myself to really receive.
After surgery, my focus was on being present and finding joy in each moment. This may sound quite odd, but this has been the easiest thing I have ever done. I am still trying to sort out how this is.
Taking Initiative For Those First Steps
What worked was continuing to see myself as whole. While I knew I'd experience pain from the amputation, keeping up with my meditations was pivotal to minimize it. I also used the principles of "pain gate theory" to gate pain at the spinal cord level. Some can laugh but I figured it was not contraindicated and heck, I'm sitting in a bed doing nothing anyways, so I used tuning forks for vibration and percussion (proprioception) on my spine over the corresponding cord levels of where the peripheral nerves were cut in my leg to create interference. I moved my spine and body as much as I could so the perception of pain was reduced as the body was having input from other areas, effectively dampening pain signals. I did mirror therapy for cortical rearrangement, and I ate really well. I listened to my team of physiatrists, OTs and PTs, as they were the experts in this area. I did two workouts per day. I rested and I moved. I was able to taper off medications very quickly and had only a couple of phantom pain experiences in the first three weeks. Incidentally the phantom pain was when I missed the day before my vibration, percussion, and mirror therapy. Hummm.
I also caught my response and quickly changed some frustrating experiences and became more curious with my behaviour. Observing myself I consciously chose to change frustration to fascination. Before the surgery I gave up many disempowering emotions that I'd label as creating drama, anger, hopelessness or sadness. Being versed in how the environment of our thoughts impacts how healing occurs through impacting our physiology and epigenetic change, it was time to embody what I knew. I was also fortunate to come into an amputation willingly and with some maturity that 57+ years of life provides. Rather than experiencing post traumatic stress, I wanted post traumatic growth.
I also let go of "trying to control when and how something should happen". For me, this removed stress if something didn't happen. What I experienced in this unknown was excitement because everything was new. There has been plenty of gratitude and celebration for me. I knew it would be the little stuff that built the foundation and progress for later on. Getting out of bed with a walker. Putting on my own stump shaper sock. Having stitches removed. Having my first prosthetic fitting. Then finally weight bearing with the initial socket. Relearning how to walk with crutches, then a cane, then no aids. Learning how to climb and descend stairs. Getting my drivers licence. Those were each small steps leading to big moments to celebrate. More things came when I least expected it. Navigating showers and tubs, swimming pools, uneven ground. I was fortunate to return to a new "enabled" normal in my life quickly.
I am now 9 months out and have done things I'd never have foreseen at the time of the amputation. Each came with ease and without pressure to succeed. I think that has made a considerable difference. Activity wise, I've done a 5 km race (walking), back to my stand up paddle board, some great boot camp-like workouts, scaled rock climbing walls and the first week of September I was with a group of over 900 who belayed the Toronto Westin Harbour Castle Hotel, 33 floors. The idea was to maintain heart coherence even when the environment is scary. In other words, allowing the mind to overcome the body. I loved it. And I was the only amputee.
I've spoken to many other amputees and there is a tendency to compare. I caution against this because we each come into the current situation with different levels of vitality, resources, creativity, maturity and reasons. However, no matter who, we will all experience times of challenge and it is how we perceive it that makes all the difference. If we stop comparing our journey to other's we get to write our own story and with it comes all sorts of new opportunities.
It's not just amputees but we are all faced with challenges and big decisions in life. Our lives are complicated. But we have so much to gain from taking the next step. When we turn frustration into fascination and become the observer of ourselves, then we can catch ourselves running old unconscious programs. When we increase our vibration through conscious awareness and get out of the way (surrender) – then new solutions can show up for us in the most unexpected of ways. Open up to trust and receive. It has been life changing for me in unbelievable ways.
I have no idea as to what is next but I'm in a great place to receive the unexpected. I'm a grandmother of 5 and shortly off to a scuba live-a-board for 10 days with a dive foot. I feel more whole and connected than I ever have. I'm more in love with life than ever before. I would not change a thing because this event has enriched who I am.
My Body Is Capable Of Way More Than I Ever Imagined
The more I went, though, the more trainers noticed I didn't mind getting pushed to do better. Eventually a few of them gave me constructive criticism on my technique, and they even worked with me to adjust the move or exercise as needed.  The most amazing part in all of this is that I've learned my body is capable of way more than I ever gave it credit for. Turns out my boxing technique doesn't have to look terrible. Through patience and a whole lot of practice, I've improved. I'm still in the process of improving (that journey never ends), and through it all I'm learning how to use and trust my prosthesis better when I exercise more than I ever have before. Heck, I'm kickboxing now. Kickboxing. I couldn't have dreamed that up three years ago if I tried. 
Boxing gave me a confidence I didn't know I had in me. It opened my eyes to a world of fitness I love, and it spurred me to continue pushing myself and to even try other workouts I never had the courage to try before. Yeah, it helped get me in shape - blah blah blah. But more importantly, it showed me that my prosthesis doesn't stop me from living life. It's meant to help serve me in whatever lifestyle I choose.

Face Your Fears To Get Over Them
If you are reading this and have made it this far (let's be real, I'm long-winded), don't feel that you have to go join a boxing gym. Heck, you may hate the idea of boxing – it's not for everyone, and that's okay. If you take away anything from this blog, let it be this: nothing and no one defines your physical limits more than you do. If you want to try something, don't let fear stop you. The best way to get over fear is to face it, not just once, but over and over again. Eventually that mountain you're trying to climb doesn't seem so impossible, and before you know it you're halfway up it and having a blast.