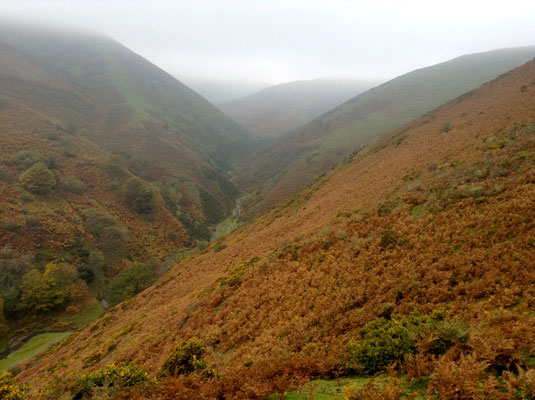 Mists In The Shire
With sea kayaking not being an option for  this week end, I opted for an early morning walk in the Shropshire Hills. The Long Mynd just to the west of Church Stretton is one of my favourite walking areas around here. The weather forecast warned about morning mist and fog - which sounded good to me. The hills in Shropshire offer stunning views. No doubts about that. But when autumn is setting in and the weather gets colder and wetter, that's when the area shows a rougher kind of beauty. That means less people out and about. That's when I really enjoy the walks out there.
Lord Of The Rings Kind Of Atmosphere
Setting off in the charming hamlet of Little Stretton, I follow a little brook up into the valley of Ashes Hollow. With steep slopes to my left and right, the path meanders slowly uphill. Thick mist hangs in the valley. It feels like a scene from a fantasy movie, maybe Lord of the Rings or Game of Thrones. Warm autumn colours, ranging from dark brown over various shades of red and orange to bright yellow dominate the scene. Sheep are hiding in the heather. Ponys - or are they horses, I have no clue - are browsing near the path. Dragons shoot out of...well, no - no dragons. But I would not have been surprised to see dwarves, elves or other fairy tale creatures there.
After about an hour I reach the end of the valley and take a little break at a point called Boiling Well. Then it is time to turn back, first on the plateau just north of Long Synalds, Yearlet and Ashlet hills before it's time to cut back down into the valley. But when I reach the end of the spur south of Ashlet, the sun finally breaks through the clouds and the mist lifts. So I decide to add a little loop to the walk and turn north towards Church Stretton. After a while I come onto a path down in the valley which leads back to the starting point of the walk.
Ten kilometres and almost three hours later I am back at the car. And today the prosthesis actually did okay. Only one blister that will stay a bit longer, one other slightly sore spot that will be gone within a day or two and I only had to refit it once. That is not too bad. Actually, that is good, given the experiences of late.